'Hisss' Movie Hitting Theaters Today
By Arnab Ghosh, Gaea News Network
Friday, October 22, 2010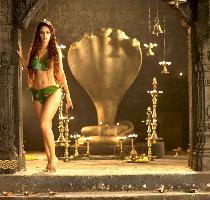 more images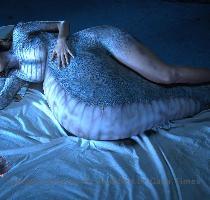 more images
MUMBAI, INDIA (GaeaTimes.com)- Today the much awaited Mallika Sherawat-Irrfan Khan starrer 'Hisss' is getting released in India. The movie directed by Jennifer Lynch tells the story of a snake woman who seeks vengeance on the abductors of her partner. There is a liberal dose of mythology and greed of modern life bringing catastrophe in this movie. However, as of now it will not be released in USA. The director wants to promote the movie really well there before the movie gets released there. However, it got lots of critical acclaim in the Cannes film festival. In India the movie is also releasing as Nagin: The Snake Woman. In fact films on the concept of Snake Woman have earlier been made in India and actors like Sridevi acted in such movies.
However, Mallika Sherawat thinks that the movie 'Hisss' is a totally different 'snake woman' movie compared to the other ones. She did a lot of homework for playing role of the snake woman seeking revenge. The costume used to show her transformation from snake to a human being is superb and it is evident that the producers of the movie have not compromised in the visual effect department. The scenes shown in the official trailer of the film bears testimony to this fact.
The movie 'Hisss' is important for the actress as with it she is breaking her hiatus in Bollywood. She spent a lot of time in promoting the film and thinks that it will give the viewers an unforgettable experience. She has also sung for this move and for the first time in her life kissed a snake.