Abhishek and Aishwarya Back Out
By SAMPURN
Monday, September 6, 2010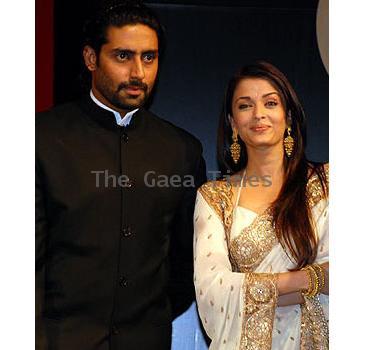 September 6, 2010 (Sampurn Wire): It was supposed to be a handsome entourage of the 'Raavan' team. The three principal players Aishwarya Rai Bachchan, Abhishek Bachchan and Vikram were to accompany Mani Ratnam to the Venice Film Festival where he is to receive the very prestigious Jaeger-LeCoultre Glory to the Filmmaker Award at the Venice Film Festival on 6th September.
But then Director proposes, Endorser disposes! It so turns out that Abhishek and Aishwarya would perforce have to opt out of accompanying Mani to the Festival for very practical reasons. One of the Festival's sponsors is a global watch company that is in direct competition with the two watch brands that Abhishek and Aishwarya endorse.
Being brand ambassadors for Omega and Longines Abhishek and Aishawrya have no choice but to give this very important day in their favorite director's life the miss.
Says a source close to Abhishek and Aishwarya, "They were extremely keen to accompany Mani. The award he is getting has earlier gone to the likes of Sylvester Stallone and Takeshi Kitano. Little did they know that such an unexpected road - block awaited their journey to Venice."
Confirming these unexpected and unfortunate developments Mani Ratnam's official spokesperson says, "Yes Abhishek and Aishwarya won't be able to accompany Mani Sir to Venice because of their brand loyalty."
–Subhash K Jha / Sampurn Wire