Movie Review: Hello Darling (2010)
By SAMPURN
Friday, August 27, 2010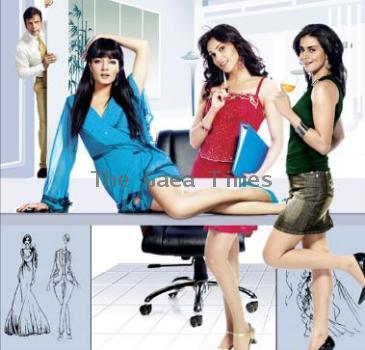 Hello Darling: Waste of time
Rating: 1.5 out of 5*
Starring: Javed Jaffrey, Gul Panag, Celina Jaitely, Eesha Koppikar, Divya Dutta and Chunky Pandey
Director: Manish Tiwari
August 27, 2010 (Sampurn Wire): A blatant copy of Hollywood film of the 80s, Nine To Five, Hello Darling is for those who enjoyed comedies like Kya Kool Hain Hum and Apna Sapna Money Money.
Sat (Eesha) comes to Mumbai for a job from Haryana. She joins a fashion house headed by Harddick Vasu (Javed Jaffrey), a lecherous boss who leaves no chance in sexually harassing his employees. Though married to a devoted wife Purvi (Divya Dutta) Vasu is philandering and harassing his female employees. Also, working in his office are Candy (Celina) as his personal secretary and Manasi (Gul Panag) as a senior manager. They two are fed up of his constant passes. Sat joins Manasi and Candy to teach him a lesson. Circumstances lead to Manasi accidentally pouring rat kill powder instead of coffee meant for Vasu. Vasu collapses but it is because of his chair falling down. But the three ladies mistook him for dead and the chaos that follows leads them to stealing a wrong dead body from the hospital thinking its Vasu's. Meanwhile Vasu captures this all on his mobile video camera and blackmails them into spending a week with him at a hill station. The three ladies have no option but to say yes to him but with a condition that he will spend the seven days in Manasi's house instead. What plan do the three ladies have in store for Vasu and what all it leads to forms the rest of the film.
The film is full of double intender jokes and one-liners that amuse you at times but don't really entertain. While the first half is quiet pacy and hilarious at places, the pace drops considerably after Vasu's visit to Manasi's house. Nothing much happens in the second half and it simply drags. The climax too is unnecessarily stretched and the entry of Sunny Deol (in a cameo) doesn't add much. One wonders why his voice appears dubbed by a mimicry artist. The whole section of Chunky Pandey being mistaken as Divya Dutta's hubby and kidnapped by Seema Biswas's hench men is howlarious at first but then gets repetitive.
While Javed Jaffrey enacts his part well he doesn't appear lecherous from any angle. He however gets his comic timing perfect. Gul Panag, Eesha and Celina all three have managed to do their job well. Eesha especially displays a better comic timing than the rest two. Chunky Pandey as Celina's unfortunate boy friend in a desi Elvis avatar is first rate. Divya Dutta is endearing.
Music by Pritam is nothing worth to rave about and the only passable song being the redoux version of yesteryears super hit track Aa Jaane Jaa.
Hello Darling seems to be aimed completely at the front benchers. Watch it if you like corny humour.
–Sampurn Wire