"I wont say the late MJ as I believe that he still lives on in the heart of millions of his fans like me" — Longinus
By SAMPURN
Wednesday, September 8, 2010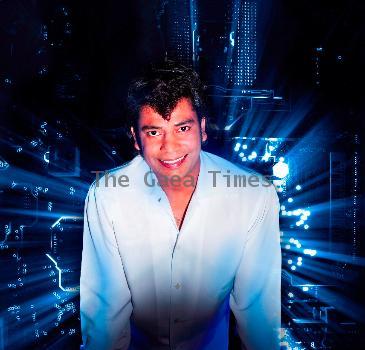 September 8, 2010 (Sampurn Wire): Longinus Fernandes, more popularly known as Longi, attained his first National and International fame when Hollywood Director Danny Boyle's film 'Slumdog Millionaire' had become the talk of the town globally. His only grudge at that time was when his name had got erroneously omitted in the film's credit title. But Danny Boyle made up for that when he invited him for the Oscar Award Ceremony. A Farah Khan protégé, he toured the world with Javed Jaffri for 5 years for dance performances. At present he his busy working as a choreographer with Sanjay Leela Bhansali on his pet project 'Guzaarish'. Here in this exclusive interview, before embarking on his month long Canadian tour, he discusses about the pros and cons of his profession with Sampurn Wire.
To start with tell us how did your choreographic journey begin?
Let me begin straight away by saying that I do not belong to any filmy family. It was my sheer passion for dance that took me to Farah Khan whom I consider my mentor. Prior to that I was working for a band called 'Sphinx' with a group of friends like Amit Mitra, Nihal Khan, Rizwan Khan et al under the tutelage of Javed Jaffri. Here I must add that I was a great fan of Micheal Jackson, no I won't say the late MJ as I still believe that he still lives on in the heart of millions of his fans like me. He was my inspiration, my idol.
What was it like assisting your mentor Farah Khan?
I have no words to describe my experience of working with her. It was like family. I had joined her as an assistant in 1983. Simultaneously I worked with the 'Sphinx' band and then I got the opportunity to go on a world wind tour with Javed Jaffri. Once the tour was over I went back to her and it was so nice of her to take me back. Hats off to her and her family who were also good to me! This was the year 1995 when I assisted her in 'Dilwale Dulhaniya Le Jaayenge' and then again in 'Main Hoon Na'.
What happened next?
I worked as an independent choreographer in Ashok Mehta's 'Moksh' on the song 'Jaan Leva', in Ananth Mahadevan's 'Dil Vil Pyar Vyar'. It was a real learning and an enriching experience doing all those songs of Panchamda (The late Rahul Dev Burman) in retro mode. Then in 'Bombay Boys' and then as they say there was no looking back. My best choreographic moment was when I worked in Danny Boyle's 'Slumdog Millionaire' and then as they say the rest is history. My last released film as a choreographer was Rakesh Roshan's 'Kites'. At present, I am working in Sanjay Leela Bhansali's 'Guzarish' and many international projects too.
What difference do you find in choreography then and now?
Honestly speaking not much. As everything in Indian Cinema is like a cycle. Everything is recycled. What goes on comes back. Take the case of songs like 'Inhi logo ne le lina dupatta mera' from 'Pakeezah' or 'Jab pyar kiya toh darna kya' from 'Moghul – E – Azam'. They are all being remixed in retro mode. In the same way the dance steps are coming back, the choreographic styles are also changing. Basically all the footwork, which has originated from Kathak dance form, always remains the same. The basic 1 2 3 4 steps also remains the same then whatever progressive dance forms be. It's like the fruits keep changing but not our original roots.
Does all this dance form help in shaping up the choreography?
It is not only the various dance forms that help. A perfect choreography also needs perfect synchronization of movements, different techniques, perfect lighting, the background and the chorus dancers in the foreground if the scenes demand, besides the attitude of the main or the chorus dancers and above all the best advanced camera to capture a choreographer's vision.
Can a choreographer unlearn his dance while concentrating on all the other aspects of choreography?
Honestly speaking, no. But I had to unlearn my English to get into sync with on the sets Hindi. Now whatever that means! Any ways do you think stalwarts like Hiralal, Sohanlal, Satyaprakash, Oscar – Vijay, all of whom I am emulating, had unlearnt their dance while choreographing in their films? No I don't think so because they had all mastered their art and craft to the extent that today they are known as the text books of choreography.
According to you who is the best dancer in Bollywood?
I would say Hrithik Roshan and Govinda. The former is a great performer and the latter is a great entertainer. While Shah Rukh Khan can be called an energetic dancer! He possess this mad energy or else do you think any other actor could have done the dance like he has done 'Chhaiyan Chhaiyan' in 'Dil Se' and other dances in films like 'Yess Boss', 'Duplicate', 'Main Hoon Naa' and 'Om Shanti Om'. I would say he is crazy about dance, man. Then I would say that Neil Nitin Mukesh is a graceful dancer with whom I had worked in Madhur Bhandarkar's 'Jail'.
What steps do you take if you find that an actor is having two left feet a la Dharmendra or Sunny Deol while dancing?
That's where the real Choreography, which I mentioned above, comes in handy. Besides at such moments I have my own bag of tricks to redeem the situation.
Do you also have the ambition to turn a director… not unlike other choreographers?
You bet I have. I want to direct two Musical Plays, along with my partner in production Rahul Vohra, titled 'Bioscope' and 'Tuwar Ki Dal' on the lines of Broadway and not the usual run of the mill fare. I think most of the choreographer – turned - director, do not succeed in making a hit film because they don't make a complete musical film full of songs. They fail to understand the pulse of the audience. In this regard, I would say that directors like Raj Kapoor, Manoj Kumar et al were really blessed in making a complete entertaining film.
You came into limelight after working with Danny Boyle in 'Slumdog Millionaire'. How is he as a director?
Needless to say he is a very illustrious, a great filmmaker but above all he is a great human being.
Who do you think is the best choreographer amongst the current lot?
First of all let me tell you that an ad filmmaker can never become a good director. In the same way even a choreographer cannot become a good director. But of course I would say that Ahmed Khan is a stylish filmmaker and he is here to stay on as a director to be reckoned with. Apart from him the others whom I really like and who are good in their art and craft are Vaibhavi Merchant, Bosco – Caesar and Remo D'Souza. In fact, everyone has their own style and there is room for everyone.
– Shaheen Raaj / Sampurn Wire