Will 'Biebsmeetjordan' Help Jordan to Meet Bieber?
By Turjo, Gaea News Network
Monday, August 16, 2010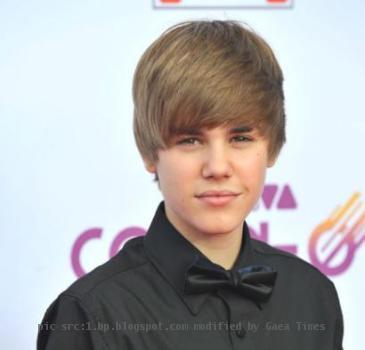 more images
PHILADELPHIA (GaeaTimes.com) — We all know how famous the 'teen sensation' Justin Bieber is. We all love his voice and go crazy over his videos. But the question is- does Justin love his fans as much as they love him?
There's a 6 years boy in Philadelphia named Jordan, who is presently struggling with cancer for the last few weeks. His only dream is to meet Justin Bieber and have Justin teach him a few cool skate-boarding tricks. Is this too much to ask for?? Biebsmeetjordan is the effort of Bieber fans via Twitter to complete Jordan's dream.
A few months earlier while playing outside, Jordan came to his mom and said that he is having a pain in his head. Suddenly he collapsed to the ground screaming at the top of his lungs- sounding like a screeching cat. His mom started to panic as she had no clue what to do. So she and her elder daughter Tori took Jordan to the Frankford Bucks Hospital. Jordan laid in Tori's lap the whole ride from the home to the hospital. After a few test in the emergency room, doctor's found that Jordan had suffered from an internal brain bleeding. They put Jordan on steroids to shrink the swelling and to calm the bleeding a little. Minutes later they put him on oxygen tank and put tubes down his throat. After they had calmed him down a bit, they called in a helicopter to transfer him to a bigger hospital CHOP for a surgery. Jordan always had the wish to ride a helicopter. But unfortunately for the first time he was riding helicopter not for a joy-ride, but to save his own life. In the CHOP, doctors shaved off Jordan's hair for the surgery. He was crying as he wanted to keep long hairs, just like Justin. The brain bleeding took place on the right side of his brain, which paralyzed the left side of his body. But after the surgery, he was more responsive then expected. On the day of the surgery, he was already talking. Within next few days, he started walking slowly and then finally he was ready to go home.
He will be starting his chemotherapy session in the CHOP within 2-3 weeks. He will be going over there once a week for 1 long year. And still he is smiling and hoping Justin will come to meet him.
Because of his surgery, Jordan has missed his kindergarden graduation. But the whole school turned up during his surgery with a "Get Well Soon" poster and recorded version of the graduation event. His school had put together a fund raiser, where people are donating generously even now for his medications and chemotherapy sessions.
Jordan had always wanted to get purple Supra's, a plaid shirt, skinny jeans and a hat- just like Justin Bieber. Justin is like an inspiration to him. To meet him is like a dream come true for Jordan.
Will he get to meet Justin? Thousands of Bieber fans are storming the internet in Twitter through 'biebesmeetjordan' with a plea to Justin. They all want him to meet little Jordan only for once. We can all agree that the boy surely deserves this chance after going through all these hardship.
So, our request to all those reading this article, please contact Taylor or Tori on Twitter @ BieberShakesIt and @ toribabe3x. You can check out the facebook page for more details.
Even little contribution from your side will matter the most for our little Jordan. Feel free to request Justin to meet that kid through your comments in our site. We'll try to send your request directly to him. It will be our effort to make Jordan's dream come true. Till then, let us pray for Jordan. One of the most devoted and courageous fan of Justin Bieber.