Face to Face with Bobby Deol
By SAMPURN
Sunday, August 15, 2010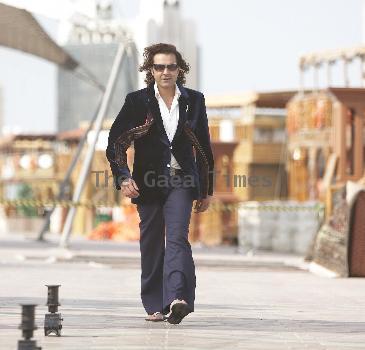 August 16, 2010 (Sampurn Wire): Never mind whether the film is a hit or a dud at the box office, BOBBY DEOL tells Jyothi Venkatesh that it was like a big picnic working on a horror film like Help in Mauritius.
Tell me what your film Help is about.
Basically it is a horror film. It has been directed by Rajiv Virani, who had earlier made films like My Bollywood Bride and The Whisperers. It is for the first time in my career that I have acted in a horror film. I play Vik, the role of a maker of a horror film. Though Vikram Bhatt has been making horror films of late, I swear that the character that I play in the film has got nothing to do with Vikram Bhatt. It is about how a husband and wife have some misunderstanding, because she presumes that her husband is having an affair with his heroine on location. How we go to Mauritius when we come to know that my wife's father is not well and things get sorted out eventually is what the film is all about.
What appealed to you about the film? What I like about the film is that the whole package looks scary. The film is about how paranormal forces unleash scare. It was quite a difficult task to relate to the role because I have not seen such forces in my real life. During my college days I had heard about stove talking. I think it is all rubbish.
Didn't you think it's downmarket to do a horror film?
You have to make your own choices and work in life. I like horror films. Gone are the days when we used to make tacky horror films and people in the industry used to look down at them. Times have changed drastically. It is like a big picnic watching a horror film now. Raaz was the beginning of a good horror film era. Ram Gopal Varma has done quite a few and they have done well. Earlier we did not know Indian horror films have a big market abroad. If you make a good horror film, you definitely have something.
Do you like horror films?
Yes. I do make it a point to watch horror films, though I do not let my kid watch them. In recent times, I liked the film Others. It was an emotional film about a mother and a child. I also saw Inception, though that's not exactly a horror film. I think it is a great concept and it has been made well. Every film has an audience, if it is well made. If people like a scary horror film, others also will go and see.
You are working with Mughda Godse for the first time!
Yes, yes… I am working with Mughda Godse for the first time. She is a hard working model turned actress. Today every model is turning into an actress. Everyone who is acting in the film, except Mughda and I, is working for the first time. It is like you are walking into a big house where you know no one. You can call me a senior. The generation younger than us is changing drastically. The new generation thinks that it is a new song but we call it a remix.
How would you look back at your journey as an actor till date?
It has been a fun journey. It has been a very exciting journey for me as an actor right from Barsaat till Help. I think I have grown tremendously. Today I am more mature. Life is an experience and you learn every day, whether you are an actor or for that matter just a normal human being. I do not mean to say that actors are not normal human beings (Laughs).
On what basis do you sign on the dotted lines for any film of yours?
First, I see whether the producer will be able to do justice to the film. If I am convinced that he can, the next thing that I see is whether the script holds my interest. After I ensure that the producer is right and the script is good, I insist on the right star cast, because casting is the most important aspect of any film. Though I have mostly acted in solo starrers including Help, I have no qualms about acting in multi-starrer films, because nowadays, it is the question of more the merrier and people prefer watching multi star casts.
Are you and Sunny playing real life roles as the sons of Dharmendra in your home production Yamla Pagla Deewana?
Yes. Papa is playing my reel life papa too in the film and Sunny bhaiyya is playing my brother. There is no other way that people will look at us. It is a fun packed action comedy with accent on emotion. It was nice working with papa after a long time.
Which other film are you doing now, besides Yamla Pagla Deewana?
I am doing Thank You with Akshay Kumar and Sonam. The film is an out and out zany comedy!
Can you name five best films of yours?
Dillagi was my best. Please do not restrict me to only five best films of mine.I will also name my films like Apne, Gupt, Soldier, Badal, Bichu, Humraaz and last but not the least Jhoom Barabar Jhoom too. I also did a film about a certain freedom fighter, which came at the wrong time when every other person made a film about the same freedom fighter (Laughs).
Who are your favorite co-stars?
All my co-stars are my favorite co-stars. Though Preity Zinta and I had a big fight, later on we made up and became good friends. The same was the case with Rani Mukerjee. Though we had a massive fight while we were shooting, we made up with each other and ended up becoming good friends. I think the best way to be a good friend is to fight with your co-stars. (Laughs). In recent times, Priyanka is a sweet heart.
Which are the directors with whom you would love to work?
Since I want to work with all good directors, I do not want to name any one particular director. People ask me why I do not send feelers to directors when I come to know that they are about to launch their films to take me on in their films. Mujhse hota nahin… That is why I have a secretary.
Stars these days are ready to appear on television. Do you have any such plans?
I am always being offered some show or the other but I keep on saying no, because I have my own reservations.
–Jyothi Venkatesh / Sampurn Wire