Tum Milo To Sahi (2010)
By SAMPURN
Friday, April 2, 2010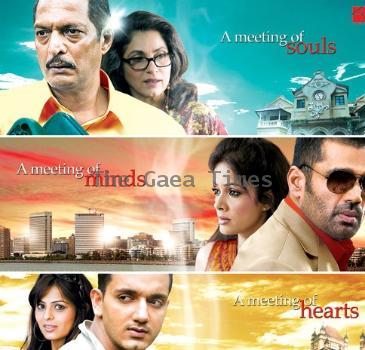 April 2, 2010 (Sampurn Wire):Tum Milo To Sahi - Nana and Dimple
Rating: 3 out of 5*
Starring: Nana Patekar, Dimple Kapadia, Sunil Shetty, Vidya Malvade Dayma, Rehan Mirza and Anjana Sukhani
Director: Kabir Sadanand
The plot of the film revolves around Lucky Café a coffee house run by a very lovable Dilshaad aunty (Dimple Kapadia). It has its loyal band of customers ranging from college going students to taxi drivers. Amongst them are Anita (Vidya Malvade) a college lecturer married to a hot shot corporate, Amit (Sunil and a new entrant in the city, Bikramjeet Singh (Rehan) and his college gang, including his crush Shalini (Anjana). Honest, hardworking and a loyal clerk Subramanium (Nana Patekar) is given the pink slip by his boss (Mohnish Behl). He ends up quarrelling with Dilshaad at a departmental store. Later he also ends up confiscating her grand son's bicycle for spoiling his dead mother's photographs. But eventually he too ends up striking a friendship with Dilshaad and becomes a regular at her café too. But threat comes to the popular café from Amit's company Blue Bell which is desperate to open its coffee chain at that place. How Dilshaad fights the arm twisting tactics by Blue Bell with the aid of her loyal customers forms the rest of the plot.
Actor turned director Kabir Sadanand who earlier gave us the extremely forgettable Popkorn Khao Mast Ho Jao this time delivers a little flawed but largely a loveable film. The casting of Nana Patekar and Dimple Kapadia is a master stroke that has won more than half his battle. Their track is not only extremely endearing but also well enacted by the two veterans. There are plenty of well written scenes that stay in your heart long after the film is over. Like the ones where Nana is given the pink slip and carries his type writer in his arms as if it is his baby, Nana at the departmental store, Dimple visiting Nana's house for the first time or the court room climax where Dimple reveals the truth she had been hiding from everyone for years. But the film also has its flaws. While the length could have been cropped down a bit, the item song featuring Tanisha would have been avoided. Also, the track between Vidya and Sunil gets boring after a point and the love triangle of young lovers lacks zing. The music by Sandesh Shandilya is also not much impressive. The production design however is innovative and the film is shot very well.
Working together after over 16 years, Nana and Dimple are a delight to watch. Nana is hilarious and poignant at the same time. Dimple's performance makes us want to see more of her in movies. Sunil Shetty tries hard but hardly impresses. Vidya is perfectly cast. Rehan is earnest whereas Anjana is just about passable. Amit Behl and Mohnish Behl are wickedly good.
Try out Tum Milo To Sahi, the performances by Nana and Dimple alone are worth the price of your ticket.
-Sampurn Wire