Faking Singapore: De Dana Dan shot in Filmcity!
By SAMPURN
Tuesday, September 8, 2009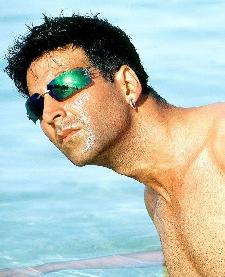 Apparently filmmakers have crossed all boundaries to make us believe in their make-believe fictitious world.
Earlier they did location hunting of the foreign lands to decide the shooting fields, but now, thanks to technology they do on computer!
Apparently, Computer Ji can do more than just 'lock' the answers! Film Dostana that will stand for the unusual friendship for ages has made us believe that it is shot in Miami, but to our shock, major portion of it is shot in the Film city, Goregaon, located very much in Mumbai.Similarly another comedy film De Dana Dan releasing this year is supposedly based in Singapore, but is shot in aamchi Mumbai.
Such films are shot on the green background, and later it is replaced by the shots of respective places, which is then put together in post-production. This is done to solve the classical date problems of our busy stars in the era of ensemble star cast.
Film De Dana Dan comprises of Akshay Kumar, Katrina Kaif, Sunil Shetty, Paresh Rawal, Neha Dhupia and Sameera Reddy. As these stars have committed their dates to multiple projects, it is tough to get them together to shoot abroad. So now our filmmakers not only create a story but also a whole new world.
Kudos to the maker, after all where there is a will there is a way!
-Deepa Mishra/ Sampurn Media