Gowtham Menons Nadunisi Naigal is ready
By SAMPURN
Tuesday, September 21, 2010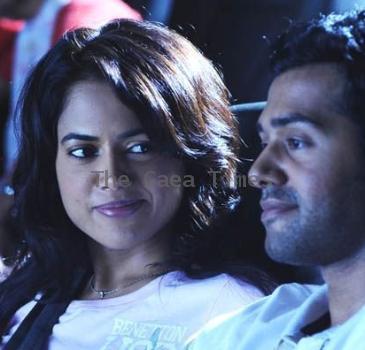 September 21, 2010 (Sampurn Wire): Gowtham Menon's directorial venture has been prodigiously successful as the filmmaker has gained global recognition for his groundbreaking Tamil films. His previous release Vinnaithaandi Varuvaaya was a blockbuster in both Telugu and Tamil and is expected to win more awards in various arenas. Much prior to the release of Vinnaithaandi Varuvaaya, the filmmaker started filming a psychological thriller Nadunisi Naigal.
The film features his long time associate Veera in lead role with Bollywood actress Sameera Reddy as the heroine. The actress has already been successful in Tamil film industry with couple of consecutive hits that includes Gowtham Menon's Vaaranam Aayiram and Ajith Kumar starrer Asal.
Nadunisi Naigal will have a running length of just 100mins and will be released in limited prints. Gowtham Menon has openly announced that it's well-tailored film for multiplex audiences and he has experimented with a new-dimensional thriller.
The film will have no songs or background score. Instead Gowtham Menon has roped Hindi film industry's top-charting sound designer to add sound effects to this film. The film's shooting was recently wrapped up and Gowtham Menon is planning to release by end of October.
Nadunisi Naigal is produced by RS Infotainment and is co-produced by Gowtham Menon's Photon Kathaas Productions.
– R. Richard Mahesh / Sampurn Wire