Christina Aguilera's National Anthem Goof Up Defended By Fergie
By Madhusmita, Gaea News Network
Tuesday, February 8, 2011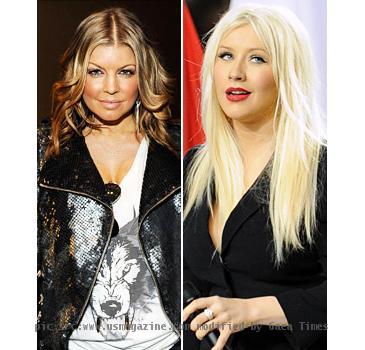 more images
LOS ANGELES (GaeaTimes.com)- On Sunday, singer Christina Aguilera made one of the biggest mistakes of her life by singing the wrong lyrics of national anthem on Super Bowl XLV. The singer botched up the lyrics of "The Star-Spangled Banner" and sang "What so proudly we watched at the twilight's last gleaming" instead of singing "O'er the ramparts we watched, were so gallantly streaming". This mistake of the singer has been criticized by many people as previously Christina Aguilera said that she has been singing national anthem since she was only seven year old. However, after the singer flubbing the words, the singer then apologized to the media for her mistake. Moreover, The Black Eyed Peas singer Fergie also tried to stand by the singer and safeguard Christina Aguilera by supporting her.
While speaking about Christina Aguilera's national anthem gaffe, Fergie told a reputed media outlet that Cowboys Stadium in Arlington, Texas is a big venue and at times a performer's "r nerves take a hold" of her. By saying this, Fergie clearly meant that the "Burlesque" actress must have lost her nerves in front of millions of audience. Fergie said that she completely understands Christina Aguilera's condition. However, she also said that the "Beautiful" singer has one of the best voices of modern time and nobody can take that away from her. In the end, Fergie said that one should not get nervous at such things as at the end of the day, we all are "human".
Apart from Christina Aguilera's national anthem issue, Fergie also spoke about The Black Eyed Peas performance at the Super Bowl half-time show. She said that her half time performance also had certain imperfections as she felt that some of her notes were "pitchy". However, she said it was an exhilarating and "once-in-a-lifetime" experience.