"Downton Abbey" Kicks-Off On PBS
By Reema, Gaea News Network
Monday, January 10, 2011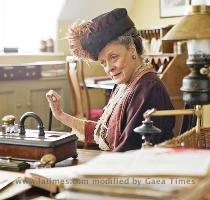 more images
LOS ANGELES (GaeaTimes.com)- Period dramas have always been a very fascinating visual treat on television and this time, it was PBS, who treated its audiences with yet another period drama, "Downton Abbey", resorting on the life of the English aristocrats, Crawleys. The show has been created by Julian Fellowes, and stars, Hugh Bonneville, as the Crawley patriarch, Sir Robert Crawley. It also stars Elizabeth McGovern, as his wife Cora and Dame Maggie Smith, as his mother Dowager Countess Violet.
"Downton Abbey" on PBS rather depicts, that the apparently glittery aristocratic life, was never just a bed of roses. Every emotion was backed by motives of further monetary gains. Sir Robert Crawley, the protagonist, himself gets married to a rich American, Cora, in order to "fortify" his estate, and love drifted in between them much later. However, the couple has three daughters and no son. Despite having a few close male heirs, the next generation of the family, does not seem to be very lucky, as all his close males lose their life, with the perish of the Titanic. As a result, the fortune had to be passed to his distant relatives, and definitely not his daughters as that would translate to losing the fortune to a different family forever. The show deals with how each of these characters plots and manipulates, in order to grab the lucrative estate.
The story is plotted during an era, when telegraph technology started ruling as the most convenient and fastest mode of communication. Apart from the elements of a typical soap opera, like romance, betrayal, greed and conflicts, "Downton Abbey" also gives some essence of the newly emerging technologies and its impact on the contemporary society.This show on PBS got an extremely good reviews for its rich screenplay and plot.
Filed under:
Entertainment
,
Media
,
News and Gossips
,
TV Previews and Reviews
,
TV Show Synopsis
,
Television
,
World
Tags:
"Downton Abbey"
,
California
,
Crawley patriarch
,
Dame Maggie Smith
,
Elizabeth McGovern
,
Hugh Bonneville
,
Julian Fellowes
,
Los Angeles
,
Pbs
,
Sir Robert Crawley
,
United States