"Bigg Boss 4″ Winner Set To Emerge
By Reema, Gaea News Network
Saturday, January 8, 2011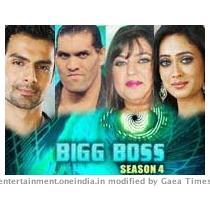 more images
MUMBAI, INDIA (GaeaTimes.com)- The three months of politics, fights, romance, break ups and patch ups would soon come to an end in "Bigg Boss 4″, as the winner will be declared this week. The four people who could strategize the game, to reach the top four, are lover boy Ashmit Patel, soft and timid Shweta Tiwari, strong and gigantic The Great Khali and cat fighter Dolly Bindra. One of these four will be the winner of "Bigg Boss 4″.
The inmates who were eliminated before, had their own opinions about each one of them. Most of the ex-inmates feel that it would be Shweta Tiwari would emerge as the winner of "Bigg Boss 4″. Sameer Soni, Seema Parihar, Rahul Bhatt and Manoj Tiwari are all in favor of Shweta Tiwari. Rahul Bhatt said that the "Kasauti" queen is a good entertainer. Moreover she gained a lot of sympathy as her husband left her, while Dolly Bindra assassinated her character several times in the show. On the other hand, Sameer Soni and Begum Nawajish Ali feel that the lady is the most deserving amongst all on her own rights.
Those in favor of Ashmit Patel, include Splitsvilla winner Sakshi Pradhan, Hrishant Goswami, Abbas Kazmi and Anchal Kumar. Hrishant Goswami made it very clear that he completely backs up Ashmit Patel, as he played a very fair game without indulging in any politics and back biting. Moreover the two bonded quite well in the show. However, the person with whom Ashmit Patel bonded the most, that is Veena Malik, refused to give any comment on the matter. Nevertheless, no one perhaps needs her opinion as everyone knows whom she wants to win. However, nothing depends on the opinion of the previous contestants. The final verdict is entitled to the public, who would decide the "Bigg Boss 4″ winner through their voting.
Filed under:
Bollywood
,
Celebrity Facts
,
Celebrity Wisdom
,
Entertainment
,
Lifestyle
,
Media
,
News and Gossips
,
TV Previews and Reviews
,
TV Show Synopsis
,
Television
,
World
Tags:
Ashmit Patel
,
Bigg Boss 4
,
Colors
,
Dolly Bindra
,
India
,
Maharashtra
,
Mumbai
,
Shweta Tiwari
,
The Great Khalli
,
Winner