Chuck Berry Faints On Stage
By Madhusmita, Gaea News Network
Monday, January 3, 2011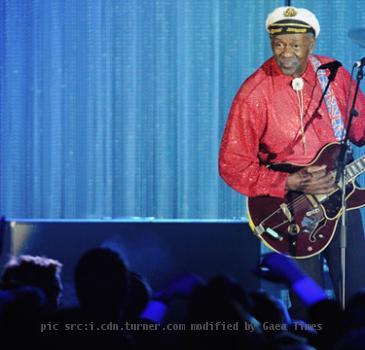 more images
CHICAGO (GaeaTimes.com)- Legendary singer/guitarist Chuck Berry shocked the audience of Chicago's Congress Theater when he fainted on stage, while giving his performance on Saturday. The eyewitnesses reported that the renowned musician was giving some out of tune performance, which made them conclude that the singer was not well. Andy Riesmeyer, the spokesperson of CMG Worldwide (which represents the singer) said that Chuck Berry refused to go to the doctor before his performance in the evening.
Andy Riesmeyer said that Chuck Berry collapsed on stage because he was tired and exhausted because of his busy schedule. The 84 year old singer, reportedly, slumped over his piano, while performing on stage and then the medical officials attended him immediately. Andy Riesmeyer told that though Chuck Berry could not complete the show, yet he came back to the stage and then performed his signature "duck walk" in front of his audience before he left the stage of Chicago's Congress Theater. The rock and roll icon said that he was not feeling well and hence, he had to lay his hand on the piano. He said that he was feeling so unwell that he had to strength to stand as well.
Andy Riesmeyer, on Sunday said that Chuck Berry is "fine" and he has returned to his home in St. Louis. Joe Edwards, an owner of a nightclub, where Chuck Berry performs every month told a reputed media source that he spoke with the singer and the "Come On" is in good health. Joe Edwards said that Chuck Berry has a "phenomenal" heath as neither he smokes nor he drinks and he is a "strong person".