"Norwegian Cruise Line" CEO In "Undercover Boss"
By Reema, Gaea News Network
Monday, January 3, 2011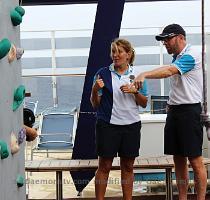 more images
LOS ANGELES (GaeaTimes.com)- "Undercover Boss" has always been a learning experience for each and every entrepreneur who has been featured in the show. And it was no different for Kevin Sheehan, the president and CEO of Norwegian Cruise Line, who acted as the under cover boss, on Sunday, January 2. While essaying his 'undercover' role, he realized how tough it is for his employees to meet the constant demands of the passengers, and serve them round the clock. He also realized which of his policies are working best for his company.
Amongst the other things that Kevin Sheehan learnt were, how to maintain the exterior of the ship. He was trained by his own deck repairman John, with whom he sprayed water on the ship's body and then splashed some paint on it quite amateurishly. His job however, did not satisfy John. He learn from him, what it is like to be in the ship for several months without a family. Recreation Staff Jessica, shows him, how to help people with the repelling walls. Even here, the 57 year old Kevin Sheehan fails to live upto the trainer's expectation. Nevertheless, "Norwegian Cruise Line" episode taught him, that Ice Skating is not a popular recreation in his cruise line and now he plans to replace it with something else.
Apart from a good learning experience, the episode also offered intense fun and entertainment for the owner of "Norwegian Cruise Line", who realized that when it comes to serving people, he is just not the best. He was criticized by his employees, whom he dissatisfied with his poor performance. These employees initially had no clue about whom they are ridiculing, but soon one of them busted Kevin Sheehan, despite his disguise. Nevertheless, the boss was nothing but impressed with his crew members' sincerity and dedication, and took all the criticism on his stride. Perhaps now he knows, how to serve people at the table better?
Filed under:
Celebrity Facts
,
Celebrity Wisdom
,
Entertainment
,
Media
,
News and Gossips
,
TV Previews and Reviews
,
TV Show Synopsis
,
Television
,
World
Tags:
"Norwegian Cruise Line"
,
California
,
Ice Skating
,
Jack
,
Jessica
,
Kevin Sheehan
,
Los Angeles
,
Undercover Boss
,
United States