Barbara Walters' 10 most Fascinating People of 2010 List Revealed
By Jayita, Gaea News Network
Friday, December 10, 2010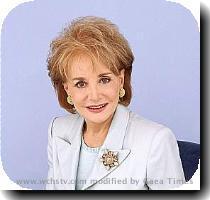 more images
LOS ANGELES (GaeaTimes.com) — Finally the excitement is over! The much awaited Barbara Walters' list of "10 Most Fascinating People of 2010," is out. After a series of interviews with big figures such as elderly "It" girl Betty White and the cast of MTV's "Jersey Shore," Walters and crew stopped by David Petraeus. He was chosen as the most engrossing figure of the year for his role in the ongoing war in Afghanistan.
First Lady Michelle Obama topped the list last year. However, this year also the list is led by a Washington DC headline-maker. According to Walters, he is an American hero for his incredible efforts in the battlefield.
The rest of the list is populated with celebs, who regularly makes headlines or spark tabloid rumors.
Dont be surprise to find Octogenarian comedienne Betty White in the list. She candidly discussed on her 2010 spike in popularity, dubbing herself "overexposed." The star of "Hot in Cleveland" didn't hesitate talking about sex at her early 90. She also proclaimed that she gets busy if she "gets lucky!"
Facebook CEO Mark Zuckerberg was included in the list for his remarkable efforts in the professional field. His mysterious personal front that he shows the public was also profiled in a segment.
How can the list be completed without Justin Bieber? The teen pop sensation not only talked about his hair cut, but also hinted that we might see him bold headed in near future.
Walters will surely cherish her talk with cast members of MTV's "Jersey Shore" for a long time. They gave her a crash course in fitting in on the shore, explained the meaning of "grenades" and showed the legendary news anchor the proper way to pronounce "smushing."
Oscar winning actress Sandra Bullock was there to discuss the astonishing highs and lows of a year that was marked by some professional acclamations at the same time personal moaning as she split from estranging hubby Jesse James.
The hilarious Je Lo (Jennifer Lopez), who is currently the judge of American Idol, also made the list and chatted about being a fan of a amateur talent juggernaut. She went on sharing her personal life with the American broadcast journalist and informed her that she is stealing some time to spend more with her husband of six years, Marc Anthony.
Sports stars are now celebrities too. Miami Heat baller LeBron James, who recently announced his switching of team was included in the list.
Royal families are always considered as the center of glitz and glamor. This was proved once again. Future royal Kate Middleton, who is going to tie the knot with Prince William next year was also declared as a future princess.
Alaska politician Sarah Palin remarked that she would consider for the presidential run if and only if she feels that she would give Obama a tough fight for the White House and get elected.
So, do you agree with Barbara Walters' list ? Are they the '10 most Fascinating People of 2010′ or you have some other choices? Do share with us.