Oprah Winfrey Network To Launch In January
By Reema, Gaea News Network
Friday, December 10, 2010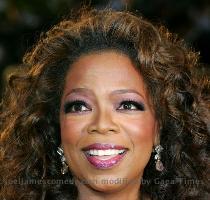 more images
LOS ANGELES (GaeaTimes.com)- Oprah Winfrey is all set to face the hurdles and challenges of launching a new cable television after her name. The channel named as "Oprah Winfrey Network" would be launched a just a few weeks, in collaboration with Discovery Network, replacing "Discovery Health" in more than 80 million homes from January 1.
Oprah Winfrey Network has been working hard for get the required financial help and sponsorship from a number of corporate houses. The Discovery Network has helped the channel with $189 million for the first year, while they jointly plan to invest a sum of $162.3 million for its programming, in the second year. On the other hand, FMCG giant Procter & Gamble Co. has assured to give the channel a sponsorship of over $100 million in the next three years. However, David Zaslav, Discovery's chief executive, on behalf of the new channel has said that Oprah Winfrey Network would not just rely on the advertising. It seeks for two streams of revenue, one from advertising and other from the subscription fees of cable and satellite operators. The new channel has already managed to replace Discovery Health, which could gather no per-household subscription fee the last year. This channel would make a better replacement and enhance the revenue of the network. The channel is forcing the Cable television and Satellite TV system to pay three times the 7 cents per subscriber, that what it used to get from Discovery health.
David Zaslav thinks that Oprah Winfrey Network has a substantial opportunity. He expects the channel to draw a whopping audience similar to that of Discovery's TLC. To him, the channel has something that's of significant value to the cable industry.