Barbara Walters' Interview With Oprah Reveals The Latter's Secrets
By Reema, Gaea News Network
Friday, December 10, 2010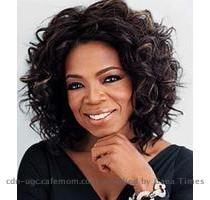 more images
LOS ANGELES (GaeaTimes.com)- Barbara Walters' interview with Oprah Winfrey would remain one of a memorable kind. Every time people think about Oprah Winfrey, they think about power and women empowerment in the American television. However, her interview with Barbara Walters only made her look like a vulnerable and down to earth woman like anyone else.
In the Barbara Walters special episode, "A Barbara Walters Special: Oprah, the Next Chapter", on ABC, something more than historic happened. In this special episode, it was not the guest, but the host who was interviewed. She talked about what is lining up next for the popular talk show host, Oprah Winfrey, as she would soon bid adieu to her show and run her own cable network, namely, "Oprah Winfrey Network". However, for the first time, Oprah Winfrey talked about her personal life to her guest Barbara Walters. She revealed more about her life, rumors, sexuality, relationship with Gayle King and longtime boyfriend Stedman Graham, and why she never wanted to have children with them. Oprah Winfrey also opened up about her personal life, and unleashed a few emotions that seem to have bothered her for several years. She was almost in tears while confessing that she is not a lesbian. This question constantly bothers her, because according to her, someone must be thinking that Oprah Winfrey is lying, while she tries to explain herself. The ace and celebrated talk show host also clarified that she does not need to hide her sexual orientation as that is not the way she leads her life in Barbara Walters' interview with Oprah Winfrey.
Oprah Winfrey also explained why she never had children. Barbara Walters' Interview With Oprah Winfrey, the latter said, that she could have had one, but unfortunately she could not have given so much of time to them due to her job pressure. Eventually they would have felt neglected. However, she said that she has no regrets for that.
Filed under:
Celebrity Facts
,
Celebrity Wisdom
,
Entertainment
,
Features and Interviews
,
Hollywood
,
Interviews
,
Lifestyle
,
Media
,
News and Gossips
,
World
Tags:
"A Barbara Walters Special: Oprah
,
Abc
,
Barbara Walters
,
California
,
Gayle King
,
Los Angeles
,
Oprah winfrey
,
Oprah winfrey network
,
Stedman Graham
,
the Next Chapter"
,
United States