Jessica Simpson and Ex-Spouse Nick Lachey Spotted Together!
By Turjo, Gaea News Network
Monday, November 1, 2010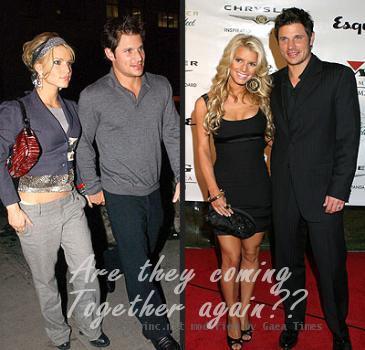 more images
LOS ANGELES (gaeaTimes.com) — Fate can seriously play some wicked tricks on us sometimes. Take Jessica Simpson and her Ex-spouse Nick Lachey for example. When both of them decided to have a dine at a Hollywood restaurant on Thursday night with their present loves, little did they knew they will have an embarrassing encounter.?
Last thursday, Jessica Simpson with her present love Eric Jhonson and Nick Lachey with Vanessa Minnillo came at the same time to have a romantic dinner at the same restaurant. A witness confirms that the couples arrived separately at The Red O restaurant around 8 p.m. (Each pair was photographed outside the hotspot.) Simpson's mom Tina also joined the star, 30, and her ex-NFL beau, 32. No word on whether the five interacted once inside.
While Lachey, 36, and Minnillo, 29, left at around 11pm, the Simpson trio left only after midnight. Newlyweds stars Simpson and Lachey divorced in 2006 after four years of marriage. Now this unwanted and unsolicited encounter at the restaurant will sure to create a lot more controversy for sure? What do you think, lachey has ever talked with Vanessa? Or Jessica has told anything about Lachey to Eric? Well, time will only tell.