Rishi Kapoor's First Retrospective (Neetu Cant Come Because Of Ranbir)
By SAMPURN
Monday, September 20, 2010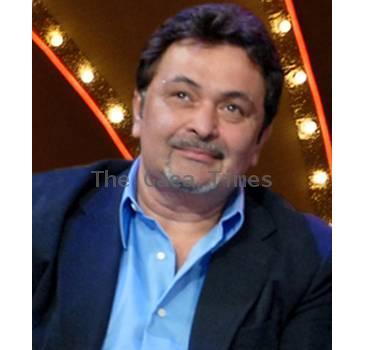 September 20, 2010 (Sampurn Wire): The original rock star, Rishi Kapoor, is as excited as a schoolboy. For the first time, South Africa is playing host to a restrospective to his films.
Says Rishi, "I've not been recognized as an actor in my own country. From the 16th of September South Africa hosted a retrospective of my films to celebrate the 150 years since the first Indian went to South Africa. They've chosen eight of my films. I don't entirely approve of their choice—Bobby, Karz, Chandni, Laila-Majnu, Prem Rog, Luck By Chance, Love Aaj Kal, and Chintuji. I'd have liked films like Damini , Amar Akbar Anthony, Hum Kissi Kam Nahin and Doosra Aadmi to be shown."
Complains Rishi, "I feel so dejected when I see other actors far more junior than me being recognized by the Indian government for their work. I'm being recognized in various parts of the world. But not in my own country."
Adding to his woes… wife Neetu couldn't accompany him to South Africa. Says Rishi, "Ranbir has just returned from Prague after a month. Neetu needs to spend time with him. We can't leave him alone at home."
Rishi misses roles being written for him the way they are for Amitabh Bachchan. "Amitabh Bachchan is an enigma. He is an industry by himself. With the multiplex culture, I'm finally getting roles that I like, especially Do Dooni Char and Patiala House. I don't want to do any of those stereotypical father's roles. I cut those down those roles in the bud."
As for reviving the once-illustrious R.K Banner Rishi sighs, I'm one-third guilty. My two brothers are equally responsible. I am not sitting idle at home. I'm very busy as an actor. I started acting from the age of 15 in Mera Naam Joker. For twenty-five consecutive years I worked as romantic hero. Then I almost immediately directed Aa Ab Laut Chalen. Then immediately after that started my journey playing older roles with Kuch Khatti Kuch Meethi. I've been working almost non-stop for 42 years. Hang up the boots? I enjoy my work. I'm very passionate about my work . If I don't work I'll go into depression."
Rishi Kapoor is very excited about being paired with his lovely wife in new director Habib Faizal's Do Dooni Char. "I loved the director's guts. He dared to cast me as the hero. When Habib narrated the story to me I asked him which role he wanted me for. When he said it was a maths professor's role, I protested saying I wasn't saleable and that he should take Ranbir. Habib stumped me by replying, 'My protagonist is 54. Does Ranbir look that old to you?' He said my star is my script. It's a very touching story of a teacher who gives so much knowledge to the world, and his struggle to buy a car. "
Habib then suggested Neetu Singh for the female lead. But Rishi reminded him she doesn't work in movies any more.
Says Rishi, "He suggested my old colleague Juhi Chawla. But she turned down the role because she didn't want to play mother to a 15-year old boy. One evening, I told Neetu about the film. She said, 'Are you mad? I haven't acted for thirty years. Just because I agreed to do one shot in Love Aaj Kal, tum peeche pad gaye.' I reasoned with her. 'Ranbir and Riddhima have their own lives now. Do this film for me, yaar! People want to see us together.' I convinced her to listen to the script. And she agreed immediately. Then I knew this film would work."
This film, Rishi stresses, is not Neetu's comeback project. "She'll do the film with Ranbir and me. But that's it. And we two might do a sequel to Do Dooni Char."
The last time Rishi and Neetu were together was in Dhan Daulat 30 years ago. "We've done eleven films together. I don't consider Love Aaj Kal our film together. But if you do then Do Dooni Char would be our thirteenth film together. I sure hope that no.13 proves lucky for me."
– Subhash K Jha / Sampurn Wire