Movie review - Dabangg (2010) by Joginder Tuteja
By SAMPURN
Friday, September 10, 2010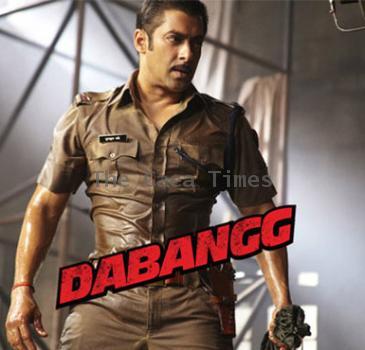 Rating: ***1/2
September 11, 2010 (Sampurn Wire):Issme action bhi hai, emotion bhi hai, romance bhi hai, drama bhi hai. Issme Salman Hai. Yeh 'Dabangg' Hai. That's right, before the first decade of the current Millennium comes to an end, 'Dabangg' has to be the first ever masala film after a long time that turns out to be the most unabashed display of star power. Really, all that you remember once the show of 'Dabangg' ends is Salman Khan.
The reason is simple. If one starts scratching the surface, there is an utter lack of storyline in 'Dabangg'. All you get to see is one item sequence tied with another, sometimes not so successfully and at number of times successfully. And when it does tie up well eventually, there is no stopping back. You can't get your eyes off Salman and this is what makes 'Dabangg' stand out as a quintessential masala film that has audience asking for more.
Salman Khan is our very own Robinhood Pandey who loots from the goons and discreetly distributes it amongst the needy. However, this Robinhood act of his just remains at the surface without taking over the proceedings. In fact to think of it, there is absolutely nothing that takes over the proceedings even once despite a dozen odd characters spread all over the narrative.
A mother (Dimple Kapadia) who loves her elder son but can't side with him since he has her feelings intact for her second husband (Vinod Khanna) and their child (Arbaaz Khan). A quiet young woman (Sonakshi Sinha) who gets to know the name of her hubby only after getting married to him. A politician (Anupam Kher) who never quite comes on his own. A goon (Romeo) whose only job is to get beaten up whenever he establishes an eye contact with Salman. A cop (Om Puri) who comes across as a mere sidekick. Most of these characters barely stay on as peripherals even as Salman dominates the show.
Thankfully, the man who actually turns out to have a good screen time as well as screen presence is Sonu Sood who makes use of the opportunity that came his way with 'Dabangg'. As a villain (who by the way loves to be addressed as a hero), he has a well defined character that basically comes on his own in the second half of the film and actually contributes to the overall plot.
Now that's actually a big relief because honestly, the first half of the film is just a set of pieces that come together by coincidence and not intent. In fact it won't be wrong to say that for the first 45 minutes at least, you end up wondering whether 'Dabangg' was actually the case of promos misleading audience into expecting something really phenomenal. Yes, there are some clap worthy sequences but still, an absence of a concrete plot means that you do tend to get a little flustered and also impatient. You do expect some drama to build up to a cause but all you get to see is Salman's histrionics put on display.
However, things do take a turn for much better in the second half and as the plot thickens (to whatever extent possible in an out and out Salman show that 'Dabangg' is), the film begins to engross the audience. the game of tricks being played to make the two brothers (Salman and Arbaaz clash), the flashback sequence involving Dimple, the anti climax at Arbaaz's wedding - just about everything ends up making 'Dabangg' a much enjoyable affair.
To add to that, music plays a big part in ensuring that 'Dabangg' stays on to be a lively affair. Short and sweet, each of the numbers come at just the right time and never cause an interruption in the narrative. The cherry on the top is the item song (Munni Badnaam) which is anyways the talk of the season.
Moreover, the best is reserved for the finale that makes 'Dabangg' an absolute enthralling affair for the masses. The extra long fight sequence involving Salman, first with a bunch of goons where his entire police forces supports him and later hand to hand combat with Sonu Sood makes 'Dabangg' a thrilling affair. Really, this is a complete 'seeti maar' affair which is actually best enjoyed in theaters.
No wonder, 'Dabangg' is all set to work extremely well in theaters. All set to enjoy one of the best starts of the current year, 'Dabangg' has in it to enjoy a good innings, at least during the first fortnight. While this should be Salman's biggest hit ever since 'Hum Aapke Hain Kaun', it will also ensure that 'masala' movies won't die in near future with more and more projects conceived on the same lines.
– Joginder Tuteja / Sampurn Wire