Emmy Countdown: Ricky Gervais, Neil Patrick Harris practice their Emmy moments
By Derrik J. Lang, AP
Saturday, August 28, 2010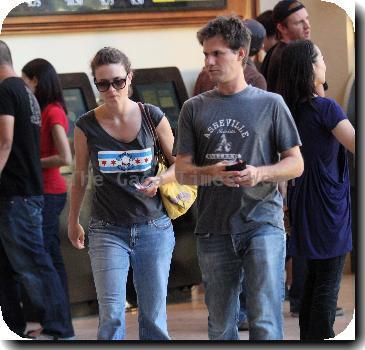 more images
Emmy Countdown: Presenters practice Emmy moments
LOS ANGELES — Rehearsals are in full swing in downtown Los Angeles in preparation for Sunday evening's 62nd annual Primetime Emmy Awards, going live to all U.S. time zones, while a few lavish opportunities for celebrities to fetch freebies before the show are occurring farther away in Beverly Hills and West Hollywood. Here's the latest happenings:
FUNNY BUSINESS: It was all laughs Saturday afternoon at the Nokia Theatre during rehearsals for Sunday's show. A smiley Neil Patrick Harris, who hosted the Emmys last year, greeted executive producer Don Mischer in the makeshift control room erected in the audience by yelling "Cut to commercial! Cut to commercial!" Harris later practiced his outstanding lead actress in a comedy series introduction, which features Harris poking fun at new host Jimmy Fallon.
Jim Parsons from "The Big Bang Theory" and Sofia Vergara from "Modern Family" giggled their way through their bit, cracking up when she pronounced "Big Bang" in her thick Colombian accent. Keri Russell also joked around with Will Arnett, who mockingly booed when stand-ins for "American Idol" producers practiced accepting the competitive reality series Emmy.
OFFICE PARTY: Oscar Nunez and Kate Flannery from "The Office" spent Saturday morning loading up bags at the DPA pre-Emmy gifting suite at the Sunset Tower Hotel. Scented candles, patterned bikinis, organic food from chef James Barry and other goodies were up for grabs. "The Office" co-workers took home personalized ornaments painted by artist Timree Gold.
BOYS' NIGHT OUT: The men of "Modern Family" reunited Friday night at the Emmys' performers nominee reception at Wolfgang Puck's Spectra inside the Pacific Design Center. Emmy nominees Ty Burrell, Jesse Tyler Ferguson, Eric Stonestreet and Fred Willard, along with Nolan Gould, who plays Burrell's son on the ABC comedy, mingled at the posh cocktail party.
"I'm trying to maintain as much normalcy on the day as possible," supporting comedy actor nominee Ferguson said on the red carpet of his Emmy day plans. "And then, like, someone's coming over to my house to do my hair. Like what is it that needs to be done? A little gel? Apparently, someone wants to put the gel in my hair for me, so there you go."
On the other side of the party, "Dexter" actor James Remar and other attendees filled their plates with Chinese chicken salad, Shangri La lobster and miso-glazed salmon. Partygoers also feasted outside on the balcony on short ribs and sweet plantains while listening to a jazz band perform such tunes as "I Kissed a Girl" and the theme song from "Frasier."
Nominees in attendance, including "Mad Men" actress Elisabeth Moss and "Breaking Bad" star Bryan Cranston, were presented with certificates by Academy of Television Arts and Sciences chairman John Shaffner, who recalled accidentally stepping on Glenn Close's gown at a Screen Actors Guild event before he handed the "Damages" star her accolade.
"One time, somebody stepped on my train, and my front went down," Close revealed.
GLEEFUL TRIO: "Glee" is the contender to beat at tomorrow night's Emmy awards. Last month, the hit freshman musical-dramedy scored 19 nominations, the most of any series this year.
Just days after getting that news, the show's executive producer Ryan Murphy was at a Paley Center writers tribute with Brad Falchuk and Ian Brennan, his "Glee" co-creators __ a trio without a nickname.
"We should get (one)," Murphy noted, "like 'Brangelina.' What could we be?"
"'R-ia-ad,'" Falchuk added, laughing.
Brennan, who looks a bit like the shaggy Shaggy from the "Scooby-Doo" cartoons, said he will take the longest to prep for the Emmys red carpet. "This is eight hours of prep," he joked. "I have a whole team of people."
Murphy, a 2004 nominee for directing "Nip/Tuck," has done the Emmy-carpet thing before. His advice to Falchuk and Brennan? "Go expecting nothing," Murphy replied.
AP Entertainment Writer Mike Cidoni contributed to this report.
Online:
www.emmys.com/
(This version CORRECTS Corrects spelling of Shaffner in graf 11. AP Video.)
Filed under:
Hollywood
,
Lifestyle
Tags:
Arts And Entertainment
,
Award Shows
,
Celebrity
,
Events
,
Keri Russell
,
Los Angeles
,
Music
,
North America
,
Occasions
,
Parties
,
Television Programs
,
United States