Alicia Keys Wedding Photos Available
By Soumitra Mondal, Gaea News Network
Monday, August 2, 2010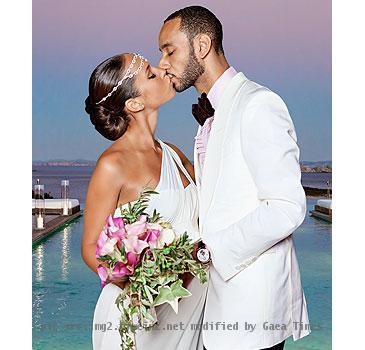 more images
New York (GaeaTimes.com) - The twenty nine years old Grammy award winner singer Alicia Keys married with thirty one years old producer Swizz Beatz in secret wedding ceremony on an island in the Mediterranean Sea on 31st July, 2010 at night. It was a romantic venue. The couple's mutual friend Dr. Deepak Chopra conducted the ceremony. A representative of Alicia Keys on 1st August, 2010 confirmed the wedding.
Alicia Keys wedding with Swizz Beatz was a simple and low profile ceremony. The wedding was witnessed by only a select few friends and close family of both Alicia Keys and Swizz Beatz. The wedding setting has been described as magical, sweet and simple. Mediterranean waters, setting sun, clear sky made the stage look as something out of a dream. The water lining was decorated with candle lights and flowers.
Alicia Keys was with a Grecian-inspired Vera Wang dress and was holding purple calla lilies. Her hair was slicked back in a knot/bun with a gorgeous beaded headband draped across her forehead. Swizz Beatz was with a Tom Ford tuxedo. His tux seemed to be vintage inspired with a white jacket, ruffled shirt, black bow tie and black dress pants.
Alicia Keys and Swizz Beatz are currently expecting their first child. Alicia Keys and Swizz Beatz had first announced about their baby and engagement during May, 2010.
Swizz Beatz's real name is Kasseem Dean. It is Alicia's first marriage. But Beatz has been married before and has two sons. His first son is Prince Nasir who is nine years old. His second son is Kaseem Jr. who is just three years old. Both of his sons were present in the wedding ceremony.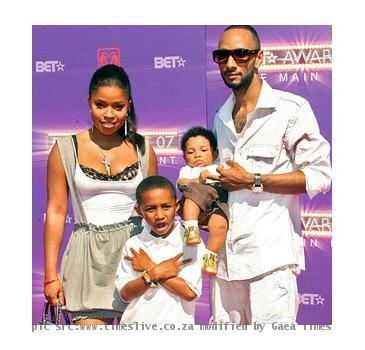 more images