Swizz Beatz And Alicia Keys Baby
By Sayantika Ghosh, Gaea News Network
Friday, May 28, 2010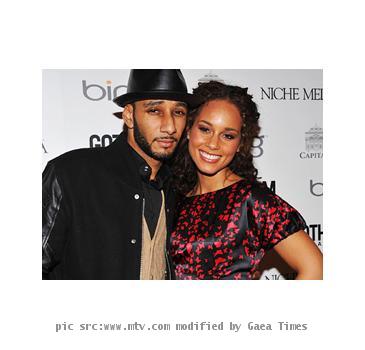 LOS ANGELES (GaeaTimes.com)- Swizz Beatz and Alicia Keys have declared in front of the media about Alicia Keys being pregnant. The couple is engaged to each other and they are all set to enter the wedlock towards the end of this year. Swizz Beatz's agent informs that the music producer is very happy and the couple are looking forward to Alicia Key's delivery. Both Swizz Beatz and Alica Keys have shared the professional bonding for a long time as Swizz Beatz acted as the chief collaborator for her albums. The couple struck intimacy while they were working on Whitney Houston's "Million Dollar Bill" which was her comeback project.
This relationship is the second in the line for Swiss Beatz who was formerly married to singer Mashonda. Swizz Beatz already have two sons from Mashonda namely Kaseem Jr. and Prince. Not far from now, Alicia Keys and Swizz Beatz were spotted hanging out together. It was said that Alicia Keys was the reason why Swizz Beatz got himself separated from Mashonda. However, when asked about it Swizz Beatz snubbed down everything and said that there is nothing to act so juvenile about a divorce which he feels is a common thing in relationships.
Swizz Beatz is looking forward to the special day when they both welcome the new born babe to the world. Alicia Keys will be performing on the stage of World Cup Football 2010 and she is currently on her Europe tour. The singer's agent said that soon Alica Keys will be recording for a new music album with Swizz Beatz. There was no comment made from the agent about the possible date of her first delivery.