BET Awards 2010, A Starry Affair
By Tias, Gaea News Network
Monday, June 28, 2010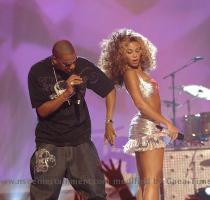 LOS ANGELES (GaeaTimes.com)- Alicia Keys, Nicky Minaj and Chris Brown stole the shows with their performances and Award-sweeps at the BET Awards on Sunday at the Shrine Auditorium in Los Angeles. The awards were hosted by comedian Queen Latifah and continued for a lengthy but entertaining three and a half hours. The pregnant Alicia Keys and Nicky Minaj bagged two awards each while Chris Brown gave a heart wrenching tribute to the King Of Pop.
Young star Nicky Minaj took home the BET award for the Best Female Hip Hop Artist and Best New Artist beating the likes of Justin Bieber for the latter and Lil Kim for the former. Alicia Keys received the Best Female R&B and Best Collaboration. For the second category she had two nominations with 'Empire State Of Mind' featuring Jay Z in the Best Collaboration and Video Of The Year categories. Her outstanding performance in spite of her pregnancy also left the audience awe-struck. She sang her smash hit 'No One' and 'If I Ain't Got You' with Kim Burrell. She also gave the audience at Shrine Auditorium the chance to hear a song from her upcoming album called 'Try Sleeping With A Broken Heart'. The pregnant R&B star was showered with compliments from host Queen Latifah while a video collection of her biggest hits were shown on the big screen.
Other highlights of the BET Awards evening included Eminem's performance with the other pregnant star Keyshia Cole and the emotional break down of Chris Brown during a tribute to Michael Jackson. The infamous ex-boyfriend of Rihanna performed two Michael Jackson classics in his signature clothes and dance moves. He however could not manage to sing the though provoking song 'Man In The Mirror' as he lost his voice due to the overwhelming emotions.