"The Gates" TV Show Premieres On ABC
By Swatilekha Paul, Gaea News Network
Monday, June 21, 2010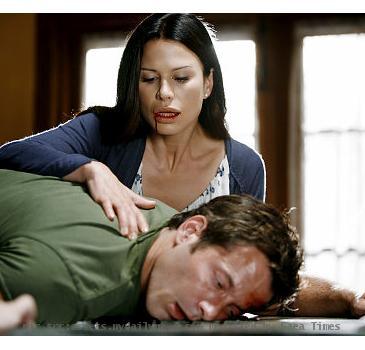 more images
LOS ANGELES (GaeaTimes.com)- All the viewers of ABC were in for a huge treat on Sunday when two of its summer series "The Gates" and "Scoundrels" made their debut in the network last night. Anticipating had been running extremely high among the viewers after ABC has announced that it is going to launch as many as five shows this week for its regular audiences. Expectations were high from the supernatural crime drama series "The Gates" and the pilot episode of the show turned out to be an entertaining experience for the viewers who had tuned in to watch the season premiere.
The first episode of the TV show "The Gates" showcased the protagonists Nick Monahan moving to an upscale community which is called The Gates where he has been appointed as the police chief along with his family. His wife, Sarah initially remains quite charged up about the new beginning as the family remains unaware of the supernatural elements that are associated with the community. In the pilot episode, Nick Monahan has to probe a case about a missing person while the Radcliffes attempt to stay under his purview so that the police chief does not come to know about their involvement in the disappearance.
In the upcoming episodes of the TV show "The Gates," the viewers would witness the rather intriguing twists and turns as the Monahan family understands that something is surely wrong with the community. While the TV show has been directed by Terry McDonough,the prime characters in the supernatural crime drama series is played by Frank Grillo, Marisols Nichols, Travis Caldwell, Luke Malby as well as many others.