Oprah Winfrey To Remove Sixth Toe?
By Priyanka Roy Chowdhury, Gaea News Network
Monday, June 21, 2010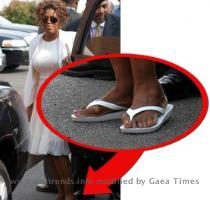 more images
LOS ANGELES (GaeaTimes.com)- The latest rumor to spread over the internet regarding Oprah Winfrey is that the talk show host has decided to remove her sixth toe. It is still not known whether Oprah Winfrey has really gone through the surgery or has really decided to go for removal of the sixth toe. Neither Oprah Winfrey nor her publicist has made any public comments over the issue. However, some reputed news sources have claimed the rumors of the sixth toe removal plan to be true.
The sixth toe of Oprah Winfrey that is on her left foot, reportedly came to the notice of the paparazzi back in 2007. A reputed celebrity new source posted a picture of the talk show host with that extra lump on her left foot which the news source said could be a bunion or a sixth toe. The sixth toe also attracted the attention of the media and fans when Oprah Winfrey attended the Howard University graduation ceremony to receive the honorary doctorate degree of humanities.
As there is still no confirmation of the news from any authentic sources there is no reason to believe that Oprah Winfrey has undergone any such surgery to remove her sixth toe. However, the rumor has provided enough fodder to the rumor mongers who have flooded the Web with the rumor. As for the fans, the rumor has left them baffled and anxious about Oprah Winfrey. While some fans have commented that it does not matter if she removes the sixth toe or decides to keep it, the others have voiced that the talk show host should not go for the surgery to remove the sixth toe as they think it to be lucky for her.