Eminem 'Not Afraid' Video: Behind The Scenes
By Naiwrita Sinha, Gaea News Network
Friday, May 14, 2010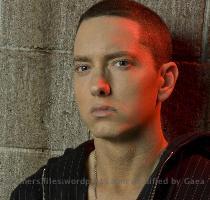 more images
LOS ANGELES (GaeaTimes.com)- It can be well assumed that all the fans of the rapper Eminem have been waiting eagerly, ever since they heard of it, for the release of his newest album, entitled Recovery. Thus, it is but natural that they have been waiting for at least the pre-release sneak peeks that are generally available in the internet. However, on the other hand, it can also be safely concluded that in the case of Eminem's latest album, 'Recovery,' they are most likely to have been sorely disappointed. he album Recovery seems to be the best kept secret of the year, as none of the songs have been officially released so far. The earlier song, 'Despicable', was released only in snippets, and the same has been repeated for 'Not Afraid' too.
In the case of 'Despicable', the official snippets did not really give any insight into the sing, and the same can be safely said for the Eminem 'Not Afraid' video too. So far, the lyrics of the song were available, but that was about all that anyone could really get as far as the song was concerned. The news that the video has been released caused a natural scurry among the fans to take a look at it, but they were in for a disappointment. While the video is available, it is not the real one.
That is to say, the version of the Eminem 'Not Afraid' video that is available very sparingly on the net comprises the filming of the song. Means, that it actually shows the rapper shooting the sequence in front of the Paramount, in Newark. However, some still images have been released to, along with this video, although they are also from the shoot, and not the actual video.