Dharmendra might have frozen to death -Asha Parekh
By SAMPURN
Monday, November 30, 2009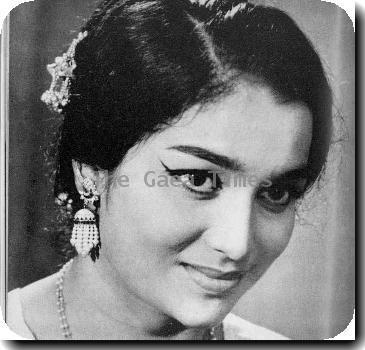 ASHA PAREKH who has been honored by the government of India at the ongoing IFFI in Goa for her contribution to the film industry for the last 50 years, tells JYOTHI VENKATESH in an intimate chat in Goa that her only regret in life is that she has not acted with Dilip Kumar
Asha Parekh is literally on top of the world. The IFFI Goa for having completed 50 years in Hindi Cinema honored her. Her first film Dil Dekhe Dekho and Kati Patang are being showcased as part of the Asha Parekh Retrospective in the ongoing IFFI. When I zeroed in on Asha after the screening of Dil Dekhe Dekho, Asha turned emotional.
I feel really great to have been around for such a long time in the film industry and whats more still continue to be a part and parcel of the same.
Asha added, I may not be actively working as an actress any more but then I also have had a production house which has made TV serials in Hindi as well as Gujarati, besides my involvement with a lot of social work. I decided to stop making serials because the actors today are not disciplined. Ethics has gone for a toss.
Why do you feel so? I asked Asha. Pat came the reply, Believe it or not, one actress who was working in my serial all of a sudden told me that she had to go to London and hence could not fulfill her commitment to shoot for me. Without even getting my permission, she went away and when I wanted her to come back, she asked me for airfare from London. I simply replaced her with another actress, but she came back and pleaded to me that she wanted to be a part of the serial once again. I refused.
Asha is frank enough to call a spade a spade. TV is small and like a soda water bottle. The fizz goes away when the serial is off air whereas films have a very wide and huge canvass. If I do not take up acting today, the reason is that I am mostly being offered only roles to play the inconsequential mother or sister or bhabhi. Id rather concentrate on my other activities which keep me busy than take up these offers.
Till some time back, Asha was the President of CINTA. I was also the Trustee cum Treasurer from its inception of the Cine Welfare Trust till some time back. I was also in the Gandhi trust for six years, which was set up by Richard Attenborough to give aid to all old artistes who are not financially in a sound state. I have been on the panel of the judges for various Indian Panorama of IFFI, besides being the Chairperson of the Central Board of Film Certification too. Today my Asha Parekh hospital keeps me busy almost round the clock.
Asha remembers her colleague Dharmendra fondly. I am happy Dharmendra has also completed fifty years in the film industry ever since he had made his debut with Dil Bhi Tera Hum Bhi Tere. Though I have acted with several leading men of the 60s after I had made my debut with Dil Dekhe Dekho, like Sunil Dutt, Rajendra Kumar, Shashi Kapoor, Joy Mukherjee, Biswajeet, Manoj Kumar, Raaj Kumar, Shammi Kapoor, Dev Anand and even Sanjeev Kumar and Raj Kapoor, I should confess that I have fond memories of having worked with a very unassuming and shy- at- heart actor like Dharmendra. I had acted with Dharmendra as his heroine in almost six films, like Aaya Saawan Jhoom Ke, Aaye Din Bahaar Ke, Samadhi, Batwara, Shikaar and last but not the least Dharam Aur Kanoon. I think the only actor with whom I have not acted was Dilip Kuma.
Though Asha confesses that she used to tease Dharam quite often because they shared a great camaraderie, she hastens to add that they were not on back slapping terms then, because he was junior to her career-wise though he was younger to her age-wise. When I was working with him in Aaye Din Bahaar ke, his Phool Aur Paththar had just been released. Though mostly Dharam used to laugh it off, at times he used to get upset too at being made the butt of jokes on the sets. I particularly remember one incident when I asked a unit guy to tell Dharam Uncle shot Ready Hai and he got very angry because he did not like being addressed to as Uncle. When he came to know that I was the culprit who had persuaded the unit guy to call him Uncle, he promptly retorted by asking him to address me as aunty.
Though Dharam and Asha had acted in almost six films together, Asha feels that her work in Samadhi has been the best. I liked Dharam however in two films of us- Samadhi and Aaye Din Bahar Ke. It is sad that though Dharam is a good actor, who had rendered sterling performances in his films like Anupama, Chupke Chupke and Satyakam, he is remembered mostly for his work in pot-boiler commercial films of the 70s.
Asha goes ga-ga over Dharam. Dharam is one actor who was always warm and caring. He was very protective about his heroines. I remember once we were shooting for Aaye Din Bahar ke in Shimla in freezing cold, where Dharam had to serenade in a pond and sing a song when I was dancing outside the pond. It was almost minus degree temperature and the scene required that I run away with his clothes. When every one on the sets asked him to have brandy, the shy gentleman that he is, he initially refused because he felt that I may not like the idea of any one on the sets drinking since I am a teetotaler, who detests any one who drinks, but relented when he was told that I would have no objection because otherwise he would have certainly frozen to death in the pond.
-Sampurn Media