Now its Uttaran for Akhil Mishra
By SAMPURN
Wednesday, August 19, 2009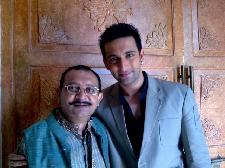 Veteran theatre actor and director Akhil Mishra has joined the now famous serial Uttaran as the character of Ummed Singh on Colors. "I play a very jolly, sweet (diabetic) guy and I want what is best for my son. I trust his judgment, but he is in love with the daughter of a maid. So the story will have many twist and turns," comments Akhil.
In fact more than the acting part he thoroughly enjoyed his reunion with his friend Basu Chatterji's daughter, who is part of the production team. Bengali actress Beena is playing the role of his wife.
Akhil Mishra is currently also acting in an English film 'Prayer For Rain'. This film deals with the issue of Bhopal gas tragedy. It's an entertaining cinema with realistic approach.
-Rachana Trivedi/ Sampurn Media