Lindsay Lohan Pleaded Not Guilty
By Madhusmita, Gaea News Network
Thursday, February 10, 2011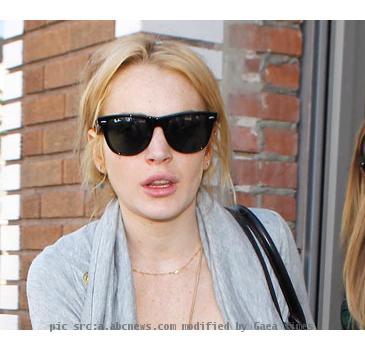 more images
LOS ANGELES (Gaeatimes.com)- Actress Lindsay Lohan has been accused of stealing $2,500 gold necklace from a renowned jewelery shop in Los Angeles. The troubled starlet appeared on court on Wednesday and was pleaded not guilty to the felony grand theft charge. The Judge, however, set her a bail of $40,000, of which, $20,000 for felony charge and violation of her probation term from her 2007 DUI case.
The "Herbie: Fully Loaded" actress wore a white short dress as she entered the court with her lawyer Shawn Chapman Holley. Los Angeles Superior Court Judge Keith L. Schwartz told Lindsay Lohan that she should follow and obey the law like everybody else. The Judge told her that she is not different from anybody else and hence she should not push her luck to the limit. Though Lindsay Lohan remained silent for most of the time in his hearing, she nodded and only said "Yes, Sir" when the Judge asked her if she understood his point of view. Judge Keith L. Schwartz also asked her to stay away from the jewelery store, that accused her of stealing one of their precious jewelries.
The Judge also said that if Lindsay Lohan breaks the law, then he would remand her and set no bail for her. The next court hearing would be on February 23 and if convicted, Lindsay Lohan would have to face three years of prison sentence. However, her attorney Shawn Chapman Holley said that Lindsay Lohan has received good reports from the rehab officials and she has not failed any drug tests. On the other hand, Danette Meyers, the prosecutor of the case dismissed the idea that Lindsay Lohan has been well behaved. The attorney said that "a good probationer" never picks up any new case.