"The Wizard Of Oz": The Winter Buzz
By Reema, Gaea News Network
Saturday, November 27, 2010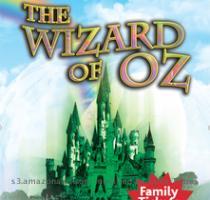 more images
LONDON (GaeaTimes.com)- "The Wizard Of Oz" seems to be the latest buzz for this winter. Many leading theaters in Europe seem to be waiting for the day, when they can present this decade old classic to the theater lovers. Two of the famous theater, where this drama will be presented, are the The London Palladium in London and The Wexford Opera House in Ireland.
The Wexford Opera House will present "The Wizard Of Oz" on December 20, December 27 till December 30, to get the perfect feel of Christmas and New Year. While The London Palladium will open the theater from February 7, 2011. This is going to be the most awaited theatrical event at both the venues. The star caste of the theater at The London Palladium are, Edward Baker as Duly (Tin Man), David Ganly as Lion, Paul Keating as Scarecrow, Emily Tierney as Glinda and Hannah Waddingham as Wicked Witch of the West. While Michael Crawford will play the lead role of the Wizard. On the other hand, The Wexford Opera House will caste Katie Honan as Dorothy, Jimmy Dixon as The Tin Man, Tony Finnegan as The Lion, John Matthews as The Scarecrow, Adam Lawlor as The Wicked Witch of The West and Dessie Lougridge as The Great Wizard of Oz. The latter has given a lot of importance to the character of Dorothy and has been made more colorful with the incorporation of some beautiful original music.
However, "The Wizard Of Oz" craze is not just limited to high profile theater groups. Many other organizations are resorting to the same story to mark a perfect winter entertainment. At the Northwest Missouri State University, the children have performed the same drama on November 26, 7:30 p.m. "The Wizard Of Oz" has also started its performance at the Fox Theater in from November 26, and will be continued till November 28.
Filed under:
Art and Culture
,
Entertainment
,
Media
,
News and Gossips
,
Performing Arts
,
World
Tags:
Dessie Lougridge
,
Europe
,
Fox Theater
,
Ireland
,
London
,
Michael Crawford
,
Northwest Missouri State University
,
The London Palladium
,
The Wexford Opera House
,
The Wizard Of Oz
,
United Kingdon
,
United States