Lil Kim Dissed Nicki Minaj In "Black Friday"
By Reema, Gaea News Network
Saturday, November 27, 2010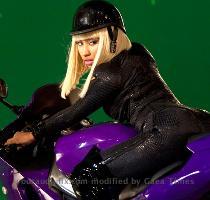 more images
LOS ANGELES (GaeaTimes.com)- Wild instincts are probably the most indispensable part of a rapper's life. Where most of the male rappers are currently leading their lives going in and out of jail, the females seem to be busy with cat fights and overt competition. The latest two to get added in this lists are Lil Kim, who dissed Nicki Minaj in her latest sound track "Black Friday".
The latest album of Nicki Minaj, namely "Pink Friday" was much appreciated by all and it got very good reviews. However, Lil Kim was rather furious with "Black Friday" for some unknown reasons and therefore, released yet another power-packed and vengeful album, "Black Friday". The title track of this album and another song, "Roman's Revenge" seems to have been created with the sole purpose of dissing Nicki Minaj. The song indirectly says that Nicki Minaj has got less talent than her. The lyrics of the song were marked with lewd words, which may be better defined as slangs. It is a complete vent of her frustration, that awfully dissed Nicki Minaj, and thereby defaming her. Lil Kim also defames Drake in the same song, who is apparently a very good pal of Nicki Minaj and supported her in several situations.
Even in their interviews, the two rappers keep on insulting each other, to add more fuel to the fire. Nicki Minaj, in a interview, called Lil Kim a "Sore Loser", while the latter fired back and dissed her, saying that it was really sweet of her but "Bi***es" like her "S**t" like that, especially when their album does not sell.
Filed under:
Art and Culture
,
Celebrity Facts
,
Celebrity Wisdom
,
Entertainment
,
Featured Article
,
Hollywood
,
Interviews
,
Lifestyle
,
Media
,
Music
,
Music Previews and Reviews
,
News and Gossips
,
Performing Arts
,
World
Tags:
Black Friday
,
California
,
Dissed
,
Lil Kim
,
Los Ageles
,
Nicki minaj
,
Pink Friday
,
United States