Elizabeth Hurley Has Fan At Home
By Tias, Gaea News Network
Sunday, November 21, 2010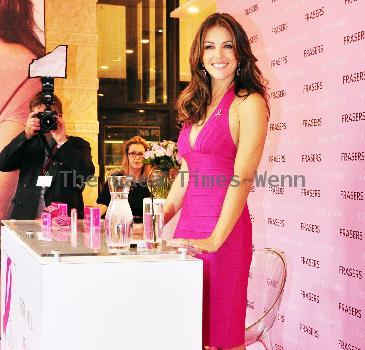 more images
LONDON (GaeaTimes.com)- 'Bedazzled' star Elizabeth Hurley has revealed in her recent tweets that her own 8-year old son Damian is a big fan of her movies. She tweeted that his favorite movie is 'Austin Powers: International Man of Mystery'. The ravishing actress' son is reportedly a huge fan of the 1997 cult film and still likes to watch it.
Elizabeth Hurley said that initially her son was a fan of her character, Vanessa Kensington, but slowly his allegiance has shifted towards the 'Fembots', the skimpily dressed female robots that lured Austin Powers. Elizabeth Hurley also spoke about her dogs in her farm. The bombshell lives with her husband Arun Nair and son in a farm in South West England and owns a number of dogs. She revealed in one of the tweets that her favorite Labrador, Raja, was upset with her because she was not at home for a week. She also said that she was hoping for a quick reconciliation. About another female Labradors, named Emily, Elizabeth Hurley said that it was acting strange recently. She said that the pooch was snorting and panting in its sleep and making a rather strange noise. She added that she hoped it was a temporary phase.
Elizabeth Hurley is known for her roles in films such as 'Austin Powers' and 'Bedazzled'. She is a former model who has been in and out of the news for years because of her relationships. The star famously dated Hugh Grant but the duo split after 13 years together. She married Arun Nair in 2007 after dating him since 2002.