Nicole Scherzinger: "Have we discussed marriage?"
By Avik, Gaea News Network
Tuesday, November 9, 2010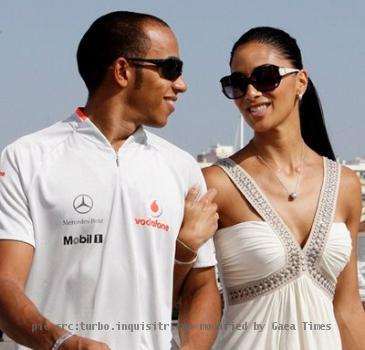 more images
Nicole Scherzinger seems to be too busy these days, and why shouldn't she be, after all she'z gonna get married. But that isn't the reason my frnd, this lady is too busy to get married.
Well, for those who don know the facts let me brief you on this, Miss Scherzinger happens to be the Pussycat Dolls singer, who is in a relationship with Formula 1 racing driver Lewis Hamilton, hasn't ruled out ever walking down the aisle but says her current priority is making a success of her career.
Nicole stated,
Have we discussed marriage? Everything in its time. I'm focused on my career now.
As a matter of fact the brunette beauty also admitted the fact that, despite her sexy image, both she and her so-called fiancee Lewis are equally happy when she dresses down that is without wearing any make-up.
She also added a few lines to the Britain's Star magazine saying,
I much prefer to be more natural. Although, I also feel great when I'm dressed up and feeling classy. Lewis always makes me feel beautiful.
Well, as it happens now, the 'Poison' singer thinks people are constantly surprised whenever they meet with her, which she believes is because she has such good acting talents, her public persona is taken seriously.
She did care to explain things as she revealed,
I love being goofy. I'm naturally a goofball. I guess I'm a pretty good actress. I asked a friend recently why people are blown away when they meet me. And my friend said, 'Maybe you were playing this persona of Queen Doll in the group for so long that people think that's what you are really like.' So I guess I'm just a really good actress!
So, what do you think, isn't she a very much concerned lady, well sometimes atleast.