Jimena Navarrete Photos Show Facial Hair
By Tias, Gaea News Network
Wednesday, August 25, 2010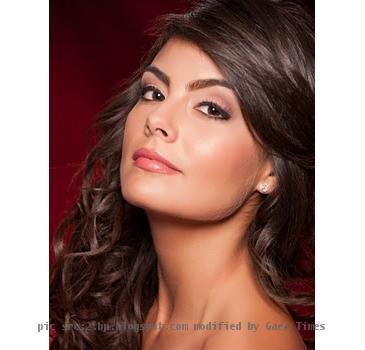 LAS VEGAS (GaeaTimes.com)- The new Miss Universe Jimena Navarrete might have won the hearts of almost every man across the galaxy, but the recently released photos of the beauty, might just up the female fan following of the pageant winner. The latest buzz on the web is about a photograph of the Mexican beauty which shows the pretty lady with ample facial hair around her jawline. Though the photographer has admitted that the photo has been airbrushed but the facial hair has not been removed. Considered that the glamorous beauty queens are often bashed for their fake appearance, Jimena Navarrete's bold photos have been described by many as a 'breath of fresh air'.
In what was a very controversial Miss Universe pageant, with topless photos of some of the contestants circulating on the web, Jimena Navarrette's photo with facial hair has created a more positive wave. The tattoo and body art shoot had been criticized by many for being too raunchy and not up to the standards of the pageant. Jimena Navarrette not only mesmerized the judges and the audience with her beauty but also held her nerves in the difficult final round.
There has been quite a stir all over the web with many feeling that the women had not only breast implants but also used botox for their picture perfect looks. Others have felt that this year the contestants had a more natural beauty, the argument is substantiated by Jimena Navarrete's photos with facial hair. The photo proves that the beauty of the most beautiful woman in the world does not lie in her face only.
Filed under:
Entertainment
,
Fashion
,
Lifestyle
,
Media
,
News and Gossips
,
World
Tags:
California
,
facial hair photos
,
Jimena navarrete
,
Las Vegas
,
Miss Universe
,
United States