Expendables Tops the Box Office for two weeks straight
By SAMPURN
Monday, August 23, 2010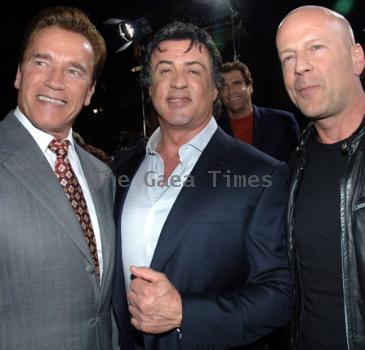 August 23, 2010 (Sampurn Wire): 'Expendables' the multi-starrer action packed movie by Sylvester Stallone has managed to rule the Box Office by fighting off all the other newcomers. A string of new movies were released this weekend and they posed a significant threat to 'Expendables', which has Willis, Statham, Schwarzenegger, Stallone and Li playing action packed roles.
'Expendables' grossed over $16.5 million this weekend and retained the No.1 spot by beating the new movies. Some of the leading new movies were "vampires Suck" which is a spin-off of the famed 'Twilight' saga; this movie opened on Wednesday and has grossed $18.6 million till now.
Another Big shot was Julia Robert's "Eat Pray Love", which made a decent $12 million adding to its tally of $47.1 million. The Comedy Flick "Lottery Ticket" is close fourth on its opening weekend with $11.1 million on the box office.
Off course the Big Daddy was Sylvester Stallone's 'Expendables', which has made a total of $64.9 million and outscored other currently playing movies. 'Expendables' stars some of the biggest names in the action genre, on second thought it has "ALL" the big names in it.
Another big grosser was "The Other Guys" a cop-comedy starring Will Ferrel and Mark Wahlberg, which made $10.1 million this weekend. The total tally for "the Other Guys" stands at $88.1 million right now. Judging by the audience reactions it seems 'Expendables' will surely overtake 'The Other Guys' by the end of this week.
–Sampurn Wire