Ekta Kapoor-Rajan Shahi; Battle for TRP again!
By SAMPURN
Monday, August 23, 2010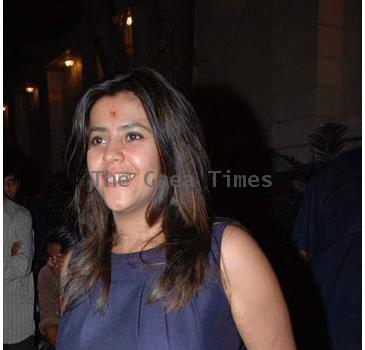 August 23, 2010 (Sampurn Wire): The two most celebrated shows of our Indian Television Rajan Shahi's 'Bidaai' and Ekta Kapoor's 'Pavitra Rishta', is going to telecast one hour special episode today on their respective channels simultaneously. Both the show has taken almost the same time slot to air their Maha Episodes. On one hand Rajan Shahi's 'Bidaai' will air from 8:00 PM to 9:00 PM, whereas 'Pavitra Rishta' will air from 8:30 PM to 9:30 PM tonight. There is a healthy and tough competition between the two shows, one's gain will be the other's loss, and it all depends on the content of the Maha Episodes now.
As per the promos of 'Pavitra Rishta', today Manav (Sushant Singh Rajput) will finally take some serious decision about marrying Shravani (Pooja Pihal) and this will be the high point of the show. But according to our source, "In today's episode, Dharmesh (Manav's boss) will give Manav his job back and along with Manav, the one who was also thrown out of the factory will be back in the company. On other hand Shravani's dad insist on getting Shravani married to Manav. Well!! The suspense is creeping on, what would be the high point of the show, will be revealed only in today's Maha episode."
"In Bidaai, Alekh (Angad Hasija) will get engaged to Sakshi (Sulagna Panigrahi), this will be the high point of Bidaai. Another surprising twist will be when Sakshi's boy friend enters the frame. But in both the shows nothing much is going to happen, they are only hyping it to gain TRP's, the high point would be revealed much later." adds source.
Both the shows are up for some great competition, whoever manages to gain more TRP will emerge as the winner. So in short both the Producers are putting in their best to attract as much as eye balls possible.
Here's wishing super luck to both the competitors!!!
–Tejashree Bhopatkar / Sampurn Wire