I Was Locked Away Without Phone Or Television: Udaan Actor Speaks About The Trauma Of Playing An Isolated Teenager
By SAMPURN
Friday, July 23, 2010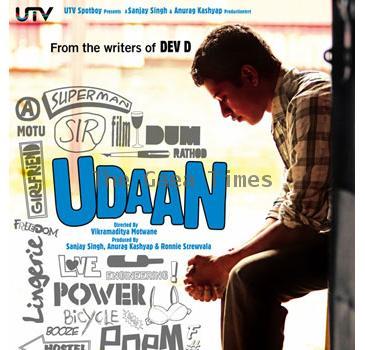 July 23, 2010 (Sampurn Wire): Imagine a Delhi boy who in his own words has lived a "chilled out" life with chilled out parents, suddenly at the age of 21 being told to play an isolated angst-ridden son of a tyrannical father in a claustrophobic town of Bihar.
The story so far is that 21-year old Rajat Barmecha has given a career-making performance in Vikramaditya Motwane's Udaan. But here's the untold story of how the first-time actor was made to get into his character's space of isolation by being taken to Jameshpur to shoot and kept away from all the accessorized luxuries of metropolitan life.
Says Rajat, "I was not allowed to meet anyone. I was made to spend hours alone in my room to feel how my character Rohan felt. I wasn't allowed a television in my room".
The worst blow for the citified boy was that his cellphone was confiscated. "I wasn't allowed to use my phone. That was the the hardest part of being alone in Jamshedpur. I can't live without my phone. Or so I thought. I wasn't allowed to talk to anyone, not even to my parents back home".
The director also made Rajat watch the films that he felt would give him a better insight into his character's estranged mind. "Vikram made me watch Francois Truffaut's 400 Blows, Curtis Hanson's 8 Miles, and Stephen Daldry's Billy Elliot. I watched as many films as I was asked to".
The youngster admits method acting in his debut film was tough on him. "But it was worth it. All the isolation helped me enter my charater's mindscape, which I wouldn't have understood otherwise. Rohan's background is so different from mine. Rohan's father is a disciplinarian. My dad is the most chilled-out guy I know. Rohan is packed off to boarding school. I've never been to boarding school. He has a stepbrother. I've two siblings, a brother and sister both older than me."
In fact, Rajat's sister Ritu and brother Vicky have both shifted to Mumbai to stay with him. All three are now pursuing a career in films. Rajat, of course, has a headstart. He is already the star of his family.
"To have gone to Cannes and walked the red carpet with my very first film was a great honor. I met so many people there and a number of Hollywood directors. But I can't remember their names. They all liked me. Now, of course, comes the real test. Let's see how people here like Udaan. On that will depend my future in Hindi films."
– Subhash K. Jha/Sampurn Wire