Chris Brown's BET Awards 2010 Break Down
By Tias, Gaea News Network
Monday, June 28, 2010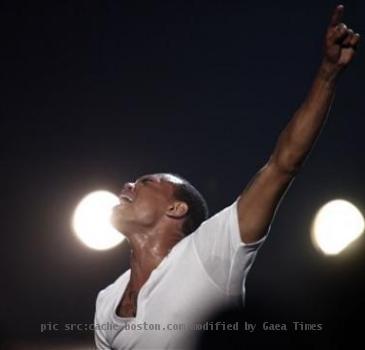 more images
LOS ANGELES (GaeaTimes.com)- For the audience at the Shrine Auditorium in Los Angeles the BET Awards 2010 night became an emotionally charged show that had stars breaking down in the middle of performances and apologizing. Chris Brown became the highlight of the evening as he paid a tribute to the King Of Pop. A performance that started out as a tribute to the greatest entertainer of all times became too personal for the 21 year old ex-boyfriend of Rihanna.
Chris Brown started off his performance at the BET Awards 2010 with Michael Jackson's smash hit 'The Way You Make Me Feel'. With the signature blue shirt and white gloves that Michael Jackson wore in the video Chris Brown danced his way into the audience's heart. Crowds cheered as Chris Brown moved to 'Billie Jean' and sent the audience into flashback of the days of the King of Pop. He was set to end the tribute with the thought provoking 'Man In The Mirror'. As lights dimmed and the back ground music started Chris Brown started to wipe his tears and lose his voice from the very beginning. The audience however cheered on as the 21 year old made his emotions public and managed to make the tribute even more special. He was however unable to complete the song and it was played in the background as he lip-sync'd.
Chris Brown was in the news for his physical assault on Rihanna. As pictures of a battered Rihanna surfaced Chris Brown faced not just the severe legal penalties but also the public hatred. His performance at the BET Awards 2010 gave him the necessary platform to come back into the industry again.