American Music Awards 2010 Performers Rock The Night
By Naiwrita Sinha, Gaea News Network
Monday, November 22, 2010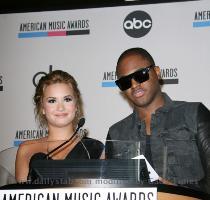 more images
LOS ANGELES (GaeaTimes.com)- The American Music Awards 2010 at the Nokia Theater in Los Angeles, on Sunday was a complete star studded night. Many of these stars were the performers at the evening.
The evening kick-started with the one by one parade of talented musicians decked up gorgeously from every inch, in celebrity designer outfits, many of them raising eyebrows. For a moment , it seemed all out of the mind as to who would win the awards. The star performances were lent out by singers Rihanna, Ke$ha,Taylor Swift, Usher, Enrique Iglesias, Carlos Santana, Ne-Yo, Gavin Rossdale, Kid Rock and others. The American Music Awards 2010 also once again saw the magic of the Backstreet Boys, who were followed on later on by other rock bands including Bon Jovi, The Black Eyed Peas, Train and Ditty Dirty Money which featured Sean "Diddy" Combs. New Kids on the Block also spiced up the event with their performance. Justin Bieber, who later on emerged as the most talked about musician of the night after he won four awards at the event swayed the audience with his "Baby Baby". Miley Cyrus with her "Love and Forgiveness" certainly spread love all around. There was no dearth of musical gala at the Nokia Theater. Rapper Pitbull had the audience tapping their feet. The newly married Katy Perry and Pink who is reported to be pregnant also added to the flavors of the musical chanting of the evening.
Amidst the chill of Los Angeles, the one after one musical extravaganza put up by the talented performers had undoubtedly soared the temperatures higher. The American Music Awards 2010 came to an end with the exact amount of glitz it needed.