Movie Review: Sex And The City 2(2010)
By SAMPURN
Friday, June 11, 2010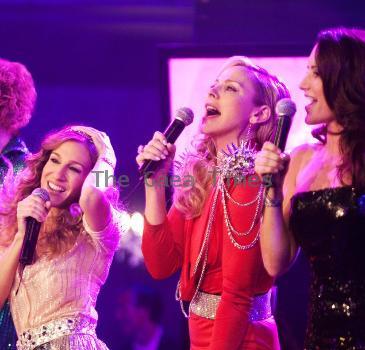 Sex And The City 2: Not much fun in here!
Rating: 2 out of 5*
Starring: Sarah Jessica Parker, Kristen Davis, Cythia Nixon and Kim Cattrall
Director: Michael Patrick King
June 11, 2010 (Sampurn Wire): The reason why the series on HBO, 'Sex And The City' rocked, was because the four women at its center were smart and funny and genuinely devoted to each other despite their differences. Also because it was a pleasure to see a show that celebrated different choices for adult women and because the clothes were frothy and fetching and finally because it was sheer fantasy, but one in which we could, if we squinted, recognize ourselves and our friends. But sadly, after having been converted into a film series, the same does not hold true any longer.
In this sequel to the 2008 released first film, neurotic writer Carrie Bradshaw (Sarah Jessica Parker) is starting to realise that life after saying "I do" to paramour Mr Big (Chris Noth), isn't everything she thought it would be. Samantha (Kim Cattrall) has moved back to New York and is battling valiantly against menopause, and Miranda (Cynthia Nixon) has forgiven adulterous husband Steve, targeting her rage instead at her chauvinistic boss. Meanwhile, Charlotte (Kristin Davis) is struggling to be the perfect wife to the ever-dependable husband Harry and a perfect mother to their two daughters. By chance or rather dramatic contrivance, Samantha is invited to the United Arab Emirates to sample the delights of a newly opened luxury hotel, and she takes her chums along for a ride. Once in Abu Dhabi, they revel in an obscenely expensive hotel suite equipped with four butlers, sit and drink in the bars exactly as they do in New York and go camel-riding in the desert, wearing special camel-riding outfits purchased that day at Dior. Problems arise when Carrie's ex, Aidan (John Corbett), mysteriously shows up, in Abu Dhabi, and there is lingering tension over whether the gals will get to the airport in time to avoid the horrors of the flying coach.
Amongst the notable sequences of the film are - Carrie's signature narration as she struggles with settling in to a married life, she thinks is losing its "sparkle as she does make some poignant observations about the different phases of a woman's life, especially for those who choose not to have children. Then there is the bad mother confession session between Miranda and Charlotte, and the hot-flash set at Samantha's oversexed (at this point, uncomfortably inappropriate) experience with menopause. But then these small moments are far outweighed by the film's extended product placement sequences, hawking overpriced goods that no average "SATC" fan could ever afford. The contradictions grow even more unpleasant as they romp about Abu Dhabi indulging in the city's excesses, while getting some stern reminders about the treatment of women in that part of the world. Trite attempts to navigate across the cultural divides only make it worse. At over 2 and half hours of running time, SATC 2 is unspeakably long, so there's plenty of space to fill in with non-events.
Amongst the cast, Kim Catrall easily towers above the rest of the three ladies with her accurate comic timing.
However, the film, for all its faults, is not a bore. In the latter half, it is as mesmerizing as a motorway car crash played in slow-motion. But it is sad to observe that, unlike most women; the once-beloved Carrie and co have got significantly sillier with age.
-Sampurn Wire