Bipasha For Amar; Rahul Gandhi For Bobby
By SAMPURN
Monday, May 31, 2010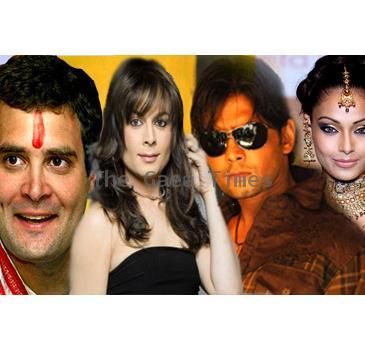 May 31, 2010 (Sampurn Wire): After Rakhi Sawant and Rahul Mahajan, the question on everyone's mind is that which celebrity will be opting for a televised 'Swayamvar'? The channel was interested in roping a cricketer but the eligible and erstwhile cricketers of Indian team, have flatly refused the offer.
The media has been going around the tinsel town asking celebrities on who will be their pick for a 'Swayamvar'? Surprisingly, the much married Amarr Upadhyay was asked this question by a scribe at Ali Merchant and Sara Khan's spa launch recently.
"I'm already married with two kids. So, why will I opt for 'Swayamvar' or participate in one. Honestly, I don't believe in this televised 'Swayamvar' concept. It doesn't appear genuine to me. However, Rahul Mahajan has married Dimpy, thereby proving that he was serious about the show," chided Upadhyay.
The question was slightly tweaked and the actor was asked about one person, with whom he would love to get friendly with?
"Bipasha Basu", gushed Upadhyay. "She is really gorgeous among the most desirable women in the world. I'm sure many more men would love to get friendly with her", she sighed.
Bobby Darling is never one to shy away from expressing him/herself. We all know that he's got a different taste. Darling was crestfallen after cricketer Munaf Patel, allegedly snapped ties with her.
The controversial Darling is now eyeing none other than future Prime Minister of the country, Rahul Gandhi. Darling iterated his affection for Gandhi saying that the Congress General Secretary is the ideal choice for the next 'Swayamvar' series.
The onlookers couldn't help but laugh in amusement. Nevertheless, as a democratic portal, we respect Darling's choice.
-Mayur Lookhar/ Sampurn Wire