Movie Review: Well Done Abba (2010)
By SAMPURN
Friday, March 26, 2010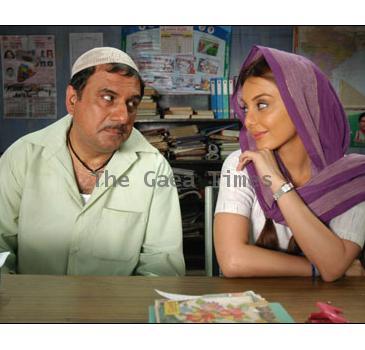 March 26, 2010 (Sampurn Wire):Well Done Abba- Witty political satire
Rating: 3 out of 5*
Starring: Boman Irani, Minissha Lamba, Sameer Dattani, Rajit Kapoor, Ila Arun, Ravi Kissen, Salim Ghouse and Sonali Kulkarni
Director: Shyam Benegal
Shyam Benegal's political satire, Well Done Abba narrates the tale of Armaan Ali (Boman) who works as a driver with a big businessman in Mumbai. After he arrives back from his leave, his boss decides to sack him since he came back after 3 months instead of the allotted 1 month leave. It is then when Armaan narrates the story behind his 3 months absence. Armaan narrates - He had gone back to his hometown Chikatpalli in Andhra Pradesh to hunt a groom for his daughter Muskaan (Minissha) who stays with his twin brother Rehman Ali (Boman again) and his wife Salma (Ila Arun). It is then when he finds out the state government has started a special scheme under which those living under the poverty line will be given a sufficient amount to build a well on their land. But when he decides to avail of this scheme, he has to face corruption at every drop of the hat. Eventually, he ends up with literally no money in hand to dig the actual well. Reason, every single person involved in this scheme ends up looting his share of pie from the amount the government had sanctioned. But his fiery daughter decides to turn the table back on all the corrupt officials' heads. Arif (Sameer Dattani), the motor mechanic who is silently in love with her also joins her mission. The trio's plan works and things spiral so much out of control that the Government gets on the verge of a collapse!
Benegal's Well Done Abba is a sweet gem that works despite no big names. A very witty film that's very well written (by Ashok Mishra) packing in many things together that are relevant to today's society. The satirical humour may not exactly be of the laugh out loud variety but it manages to keep you smiling throughout the film. It ends up making just the right statement on the many development projects that the government initiates but which frequently get hijacked by systemic corruption. Only issue many may have is with the pacing of the film. The initial few reels are extremely slow paced but with the introduction of each new character, the film picks up pace. However, one feels, too much screen time is given to the forever horny couple played by Ravi Kissen and Sonali Kulkarni and their track gets repetitive. Music by Shantanu Moitra works in the context of the film.
But the film works big time because of the casting. Benegal has a keen eye for roping in just the right actors for his characters and he succeeds yet again. Boman in a Hyderabadi accent is simply superb. He is very good in the emotional moments with Minissha. He is hilarious in his twin brother's role who is a thief. Minissha Lamba finally gets that role which she can be very proud of in her career. She fits the role to the T. Sameer Dattani is very natural and likeable. Ravi Kissen brings in the laughs as the engineer who is forever in the mood of making love to his wife. Sonali Kulkarni is wasted though. Amongst the rest cast are Shyam Benegal regulars such as Rajit Kapoor, Ravi Jhankal, Yashpal Sharma and company who excel in their parts. If one remembers the TV serial Farmaan, its pretty lead actress Deepika Deshpande makes a comeback with a cameo in this one playing Rajit Kapoor's bickering wife.
Well Done Abba is not your usual comic fare. This Shyam Benegal gives a strong message without compromising on its entertainment quotient. Do watch this one.
-Abhijit Mhamunkar/ Sampurn wire