"UniFirst" CEO In "Undercover Boss"
By Tias, Gaea News Network
Monday, January 10, 2011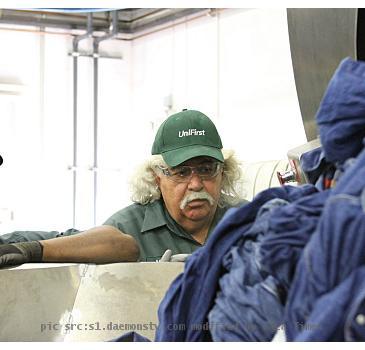 more images
LOS ANGELES, (GaeaTimes.com)- "UniFirst" President and CEO, Ronald Croatti made an appearance on "Undercover Boss" season 2, Episode 13. The episode was aired yesterday at 10p.m on CBS Television Network. UniFirst is one of nations biggest manufacturers of workwear and uniforms. The format of the show brings in the Presidents and CEOs of different reputed companies and they undertake all the manual labor done by the entry level employees. The Head comes in disguise so that his identity is not revealed.
Ronald Croatti, President and CEO of "UniFirst" appeared yesterday on the show, disguised under a big wig and mustache. He remained in his "hippie" avatar all throughout the undercover mission. Season 2, Episode 13 of "Undercover Boss" showed Ronald Croatti taking up the tasks just like the other employees. With his inexperienced hands, he tried to load one of the washing machines of the company and almost injured himself. The assembly line was moving too fast for him to keep up with its pace. then again, he had troubles with folding the aprons, and on another occasion, he remains behind others where he has to put a transparent cover over the uniforms. Last night's episode brought the reality of his organization in front him.
The "UniFirst" CEO was also shown to meet the employees of the company and find out what they desired. The tasks he undertook was quite difficult for him. Even then, the nice man that he is, he was very touched by the efforts undertaken by his employees. The show turned out to be very entertaining and not only the viewers, but the Presidents and CEOs of different companies get to have a first hand feel of what the entry-level employees experience.