Magnolia Shorty Shot Dead
By Reema, Gaea News Network
Tuesday, December 21, 2010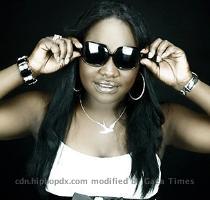 more images
NEW ORLEANS (GaeaTimes.com)- Magnolia Shorty, the former rapper from the band Cash Money, was found dead in a wrecked car at the gate on a housing complex at Bridgehampton Drive on Monday. When the police arrived at the location, they declared her dead, as a result of being shot 26 times by an untraced murderer. According to the police, Magnolia Shorty was not the only one who was the victim of this notorious act. A man was also found dead on the same site along with the rapper.
Magnolia Shorty, who is also known as ne Renetta Lowe, was murdered in a double homicide, according to the sources. It has also been revealed that the car had apparently crashed into the building complex. The police could not yet figure out what exactly happened on the spot and how the two were murdered. Although the police did not confirm the identity of the two victims to the media, sources have affirmed that one of the body is that of Magnolia Shorty. Their wrecked car was found at 6300 block of Bridgehampton Drive. The news of the musical artist's murder was first released at about 5pm by DJ Wild Wayne, of a local radio station. He first broke the news of her murder, via Tweeter, where he wrote that if people have not heard about it, Magnolia Short has been killed on Monday. He also said that he was astonished and needs to get his head together for a minute.
Magnolia Shorty got her first share of fame from her own track 'Smoking Gun' and 'My Boy'. She was also one of the first female rappers who became part of the famous rap band, "Cash Money". She was first featured on Juvenile's "3rd Ward Solja".