Blake Edwards Passes Away At 88
By Naiwrita Sinha, Gaea News Network
Friday, December 17, 2010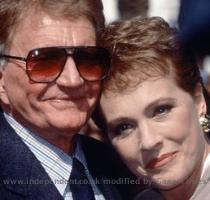 LOS ANGELES (GaeaTimes.com)- Renowned director Blake Edwards passed away on Wednesday at the age of 88 owing to long time illness. The veteran director was well known for his comic genius which brought him huge success in his ventures like the "Breakfast at Tiffany's", "10″ and "Pink Panther" movies to name a few. The director is survived by his wife actress Julie Andrews, five children seven grandchildren along with and two great grandchildren. The director breathed his last in St. John's Health Center in Santa Monica, California.
Gene Schwam, a publicist who knew the veteran comic director for almost forty years was seen issuing out a death statement of the director. Schwam said that Blake Edwards died after he lost his life out to the complications which was the result of him suffering from pneumonia. Wife Julie Andrews along with other family members were present by the director's side in his final hour. The brilliant comic director was confined to a wheel for almost the last two years of his life. Blake Edwards was some one who not only had a passion for films. He was also a painter and a sculptor. From an initial stage he continued with painting while at the middle stage of his life he took his hand at sculpting.
Sources close to Blake Edwards family revealed that the private memorial service has already been planned adding that a public memorial service will be held in the forthcoming year. During his last stage the ace director had taken up two Broadway musicals, one of which is based on the "Pink Panther" movies while the other is "Big Rosemary".