'Green Lantern' Trailer Out Now!
By Arnab Ghosh, Gaea News Network
Wednesday, November 17, 2010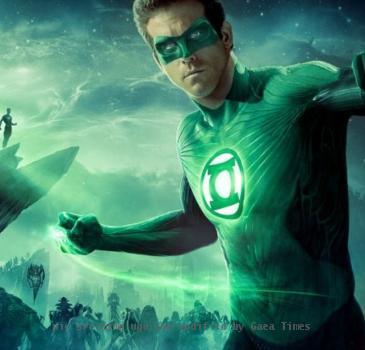 more images
LOS ANGELES (GaeaTimes.com)- After much anticipation the trailer of the upcoming superhero flick 'Green Lantern' has been officially released and the fans of actor Ryan Reynolds are going gaga over it. The film is being released by Warner Brothers in 2011 as it has been reported. The actor will essay the role of the Emerald Knight the Diamond Comics superhero. The trailer video is now available in web with Spanish subtitles. The plot of the movie revolves around pilot Hal Jordan who comes across a dying alien and the latter gives him a green ring with magical powers. Thereafter he is transformed into the Green Lantern and inducted into Green Lantern corps an interstellar police force.
The film 'Green Lantern' had been in making for quite a long time. The trailer has already generated a fair amount of buzz among the web users. They have mostly liked the green body hugging costume of Ryan Reynolds. The ring that Ryan Reynolds gets from the alien gives him a number of magical powers. He can read others minds, fly at his will and also maker objects with green energy. The actor had to work hard to build his six packs and the efforts have paid off as is evident from the movie's trailer. He also had to adapt himself to a special diet for that as he said in an interview.
The sizzling Canadian actor who shared screen space with actress Sandra Bullock in 'The Proposal' is upbeat about the 'Green Lantern'. In the upcoming sci fi film he is paired opposite actress Blake Lively. The duo look nice together in the trailer.