Kanti Shah' Next Sleaze: "Sheila Ki Jawani"
By Naiwrita Sinha, Gaea News Network
Monday, December 13, 2010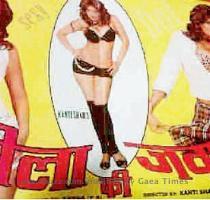 MUMBAI, INDIA (GaeaTimes.com)- Current Bollywood sensation Katrina Kaif' song "Sheila Ki Jawani" from her forth coming film "Tees Maar Khan" has become such a big hit that a movie has been made with the song as its title. So you can guess how much Sheila's 'jawani' has soared the markets. Yes film maker Kanti Shah, known to be famous for his raunchy flicks has his forthcoming movie named "Sheila Ki Jawani".
Kanti Shah' wife Sapna is playing the female lead in the C-grade movie which promises a lot of skin show along with the oomph factor which are known to be integral parts of Kanti Shah' movies. Kanti Shah who is known to be the king of C grade movies of Bollywood promises the movie will be a big hit since the title itself has been drawn from the hit song. It seems like these Bollywood character belles like Sheila, Munni and others are simply making waves and fetching a good amount in the box office. The film maker adds that it is only the title that he has borrowed. He says that the script is his own innovation. However, he claims that his wife's character bears slight resemblance to that of Katrina Kaif in the Farah Khan directed flick. The movie supposedly got shot in 12 days.
Kanti Shah says that he intends to release his "Sheila Ki Jawani" on the same day when "Tees Maar Khan" gets released, i.e December 24. In case that fails then he will surely release it as soon as possible in next year January. We wonder what choreographer turned director Farah Khan' take will be on this news. You never know, she might just be too elated that her movie song is so inspiring!