Aditya Chopra Finally To Wed Rani Mukherjee?
By Naiwrita Sinha, Gaea News Network
Monday, December 13, 2010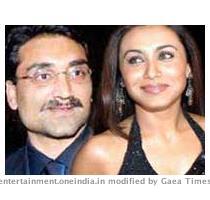 MUMBAI, INDIA (GaeaTimes.com)- The buzz that top Bollywood actress Rani Mukherjee and Yash Raj banner producer Aditya Chopra have been seeing each other is doing rounds for quite some time is not a new gossip in the tinsel town. However, once again a news related to the so-called couple has come up. This time sparks are flying that the two are going to exchange vows in February 2011. Yes this is the latest gossip doing the rounds of the gossip mills of the B-town.
Not forgetting that similar news had come up prior to this without any actual development, the news is right now not in any confirmed state. However, this time the news is being hailed as true since some seniors of the film industry who are also close to the Yash Raj camp have been seen giving some positive hints to the news. So in that case the news of Aditya Chopra and Rani Mukherjee tying the knot might just turn out to be true. However, both the individuals on being asked about the wedding bells refused to say anything.
The rumor of the relationship between Aditya Chopra and Rani Mukherjee earlier shot up on two occasions, once in 2008 and then again in 2009. However, the hatchet was even buried with Rani dismissing the entire thing as a rubbish. This time the rumor gained a strong foot after Payel Khanna, Aditya Chopra' childhood sweetheart and wife of eight years filed for divorce in April 2009 as a result of the alleged affair between her husband and the actress. Seems like Rani and Adi will exchange rings as soon as the legal hassles are cleared.
Filed under:
Bollywood
,
Celebrity Facts
,
Entertainment
,
News and Gossips
,
World
Tags:
Aditya Chopra
,
Bollywood
,
India
,
Maharashtra
,
Mumbai
,
Rani Mukherjee
,
Yash Raj