The Khans Big Dabangg Bash Being Planned On A War Footing
By SAMPURN
Saturday, September 18, 2010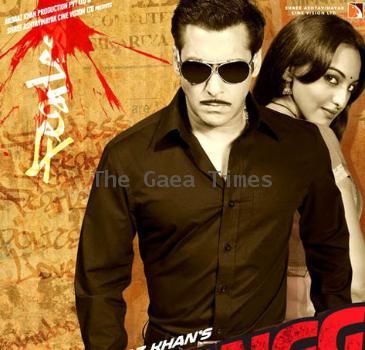 September 18, 2010 (Sampurn Wire): It is not enough to make what is being touted as one of the biggest hits of all times. The people behind debutant director Abhinav Kashyap's Dabangg also need to show to the world that they are truly the Khan-daan to watch for in Bollywood. After all it is show-biz!
According to very reliable sources close to the Khan parivaar, a mammoth bash is now being planned by the Khan brothers Salman, Arbaaz and the youngest and lately low-profile Sohail.
Salman has so far, never indulged in an open show of strength. Though his family is strongly affiliated to cinema and the entertainment industry, Salim Khan and his sons have been seen more as a silent force to reckon with rather than high-profile movers-and-shakers like the Bachchan parivar, the Kapoor khandaan or Shah Rukh Khan and his extended family of loyal filmmakers (Aditya Chopra, Karan Johar, and till not so long ago, Farah Khan).
Lately, especially now after Dabangg, Salman's parivar has begun to assert its presence in the entertainment industry as a formidable family.
Says a close friend of Salman's, "So far Salman never believed in show-sha. Recently, he got himself a professional company to manage his business for the first time. With his newly-enhanced media-friendly image and the rich dividends it paid off in Dabangg, Salman is now very conscious of how much proper presentation and packaging matter. The Dabangg success party will give a clear signal to the industry: Salman and his family are in showbiz for the long haul."
This bash, to be hosted in the next two weeks, it is reliably learnt, will leave behind all other filmi dos in recent times in terms of attendance glamour and high-visibility.
Says the source, "The Khan family is understandably over the moon. They had never expected Dabangg to be so successful. Even Salman is taken aback by the extent of Dabangg's success. A year back, before Wanted, he had a spate of non-starters including the home production, Main Aur Mrs Khanna. Today he is right on top again. Salman has taken the success surprisingly well in his stride. Rather than get cockier he has actually mellowed. It is his idea for the family to host a lavish party. ASAP."
When asked about what is secretly being spoken in the industry as the Khan Extravaganza, producer Arbaaz (trying hard to deal with unwanted elements who want to cash in on the Dabangg success) admits there's indeed a grand bash happening.
Says Arbaaz, "Yes we're going to have a celebration very shortly. So far because of the way Dabangg has gone, we haven't been able to plan out full details. But yes we will invite all our friends and colleagues. We want to share our happiness."
For Arbaaz, Dabangg is not only a family, but also a personal triumph. "To be finally recognized for my work is a feeling I can't describe. Personally, I had never dreamt the film would become so big. If you say the film has been a success because of the way it was marketed and because Salman is liked in action roles, I'd have to disagree. Salman went all out for Veer as well. As for action, yes Wanted was a success in the action genre. But not to the extent of Dabangg. Besides action, Dabangg had the comic element, great music (by Sajid-Wajid) and the girl (Sonakshi Sinha) has been immensely liked. Who knows what it is? All I know is that me and my family are looking at one of the biggest hits of the industry and we'd like to believe the entire industry shares our joy because a hit of this magnitude means prosperity for the entire industry."
When asked about the guest list for the impending Khan bash, Arbaaz says, "Ideally we'd like to invite everyone in the film industry. But that would mean a guest list of 15-20,000 people. We can't manage that. So we'd restrict ourselves to all our friends. Trust me it would be quite a list."
As for someone objecting to the use of a particular brand of balm in the song, Arbaaz says, "I am only hearing about a legal notice being sent to us from the balm company. Let it come to me. Then we'll see."
Venue Of The Dabangg Bash: Not decided. But it would almost certainly not be the the Khans' Bandra residence. Though they are known to host large lavish parties in their home (the latest being the Eid bash), it is likely that the Dabangg bash would be shifted to either a suburban 7-star hotel or to the Khans' Lonavla farm.
Food: Likely to be predomiantly Mughlai since Salman loves his tandoori chicken and mutton biryani. However, since a large number of invitees would be vegetarian other less carnivorous food would also be served.
Guest List: Would definitely include…. The Bachchan parivar, Shatrughan-Punam-Sonakshi Sinha, Aamir Khan and Kiran Rao, Sanjay Dutt and Wife, Ajay Devgn –Kajol, Karan Johar, Rani Mukherjee, Hrithik and Susanne Roshan, Imran Khan and his fiancée Aavantika, Rishi, Ranbir and Neetu Kapoor, Priyanka Chopra, Saif-Kareena…. Conspicuous absentees: Shah Rukh Khan and Vivek Oberoi.
– Subhash K Jha / Sampurn Wire